Crystal snow in Turkey's Cibiltepe dazzles skiers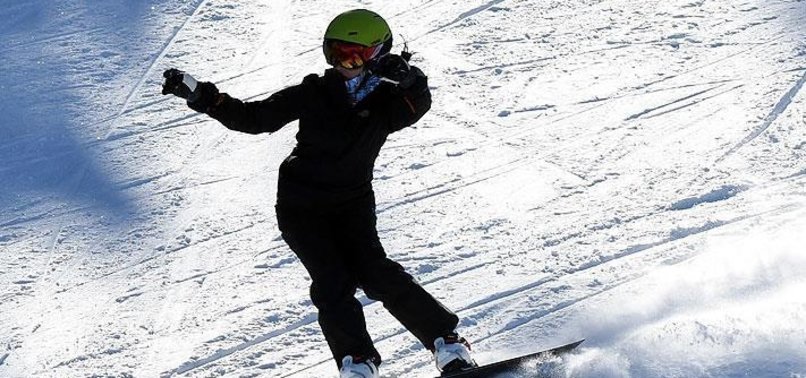 Ski tracks surrounded by scotch pine forests and natural beauty are attracting visitors in their thousands to the Cibiltepe Ski Center in Sarikamis district of northeastern Kars province.
Hotels in and around the ski center hosted 10,000 tourists last year while 60,000 people benefited from skiing facilities in Cibiltepe. There are six hotels with 2,000 bed-capacity and many rental apartments in the area.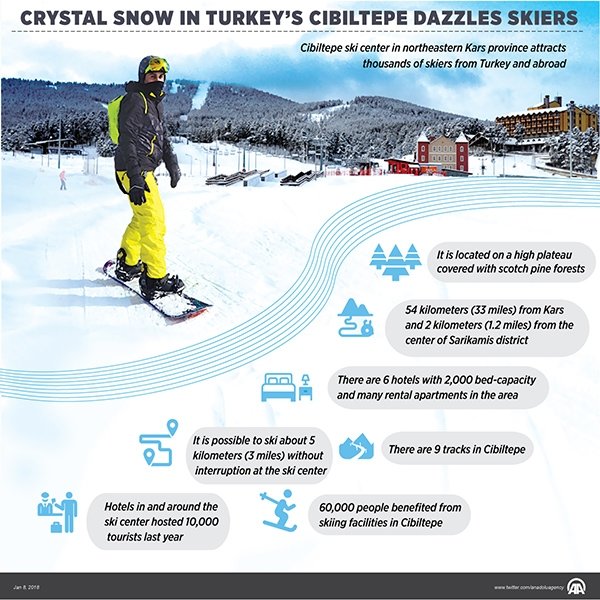 Scotch pine forests
The ski center, which is around 54 kilometers (33 miles) from Kars and 2 kilometers (1.2 miles) from the center of Sarikamis district, is leaving everyone dazzled with its snow quality and magnificent nature.
It is located on a high plateau covered with scotch pine forests and is rated as one of the most important centers of winter sports and winter tourism.
Sarikamis area in particular attracts skiers due to its highly-suitable environment, especially for "alp and northern discipline" skiing applications, "ski safari" and "slip-on trips" as well as with its runway for snowboarding.
Sunny days, no avalanches
It is possible to ski about 5 kilometers (3 miles) without interruption at the ski center. There are 9 tracks in Cibiltepe, including one with a 3.2-kilometer (1.98-mile) long track, two others with 3 kilometers (1.86 miles), three with 2.5 kilometers (1.5 miles), two with 2 kilometers (1.2 miles) and one with 1.7 kilometers (1 mile).
There is no danger of avalanche at the center and its crystal snow features are not lost despite the fact that most days are sunny during winter.
Unique in world
Sarikamis Mayor Goksal Toksoy told Anadolu Agency the ski season in Cibiltepe opened with natural snow on Dec. 9; the center does not so far have any artificial snow facility.
Noting that projects for artificial snow facility were underway, Toksoy said: "We can open the ski season in November, after completion of an artificial snow facility.
"Our ski center is very different from other centers; there is no other ski resort in the world that has such natural beauty among the scotch pine forests., except the Sarikamis, a ski resort with crystal snow. We have ski tracks for the most difficult times, and people from all walks of life can come here and ski.
"We are directing our guests to the provincial center of Kars because all the hotels in the district are full."
Toksoy also said students from across Turkey come to Kars by train, adding the city had become one of the top attractions in the region recently.
People from across Turkey and Iran as well European countries have come to the ski center, he said and noted the efforts of Transport, Shipping and Communications Minister Ahmet Arslan to reduce air ticket prices.
Dancing snow
Camkar Hotel General Manager Kemal Sonmez, who serves at the ski resort, said Cibiltepe, also known as "Dancing Snow", is a very special place known for its crystal snow.
"Crystal snow is only available in Cibiltepe after the [Swiss] Alps in the world. This makes the place unique. Especially, the fact that there are tracks among forests and that there is no danger of an avalanche makes it even more attractive for skiers.
"We are going through a very full season. I suggest skiers to book their places as soon as possible. We expect a very good season this year. We, as tourism professionals, are very happy that flights are scheduled according to our expectations and that trains are not empty."