Russia closer to Turkey's position on YPG unlike US, FM Çavuşoğlu says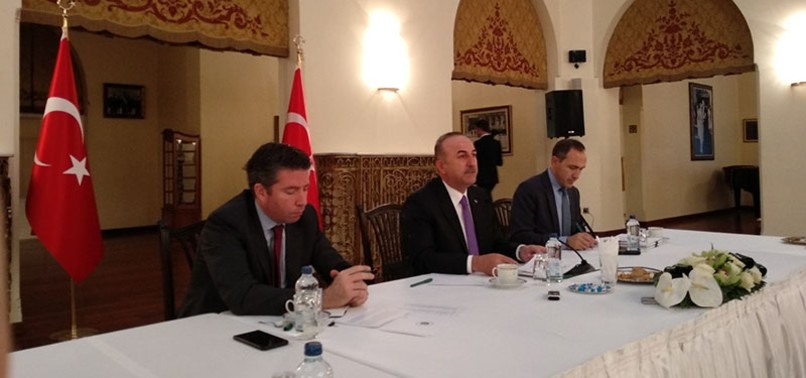 Turkish Foreign Minister Mevlüt Çavuşoğlu met with reporters in Ankara on Tuesday, speaking over a broad range of issues including Syria, ties with the European Union and the U.S. as well as the recent protests in Iran, in addition to Turkey's foreign policy outlook in 2018.
Çavuşoğlu reiterated that Turkey was against inviting a terror organization to the peace talks in Sochi, saying that the YPG/PYD, which is seen as the PKK terror group's Syrian wing, was not the true representative of Kurds and that there were other legitimate groups.
"Following the Euphrates Shield Operation, 100,000 Syrian Arabs have returned [from Syria to Turkey]. But although PYD controls one-fourths of Syria, 300,000 Kurds in Turkey could not return. Because PYD even discriminates Kurds," Çavuşoğlu said.
He also said that Iran supported Turkey on the matter as well as Russian who confirmed that the YPG would not be a part of the new round of talks.
Çavuşoğlu asserted that the Resolution 2254 of the U.N. Security Council should be fully implemented to resolve the crisis in Syria.
Russia, Iran and Turkey announced the dates for the talks in Sochi after a round of peace talks in Astana last week, however, the list of attendees is yet to be released.
"There is a race between Russia and the U.S. to use YPG in Syria. Russia is closer to Turkey's position but there isn't a total change. At least Russia understands us," Çavuşoğlu said.
Ties with the U.S.
Amid strained ties between the two NATO allies, Çavuşoğlu was also critical of U.S. policy against Turkey over various issues, with the issue of Gülenist Terror Group (FETÖ) leader Fetullah Gülen's presence in the country being in the forefront.
The U.S. took no steps against FETÖ, Çavuşoğlu said, adding that improvement in bilateral relations depends on the moves by the U.S.
"The U.S. actually needs no documents from us [for Gülen's extradition]. The U.S. knows better than us who and how took part in a coup attempt that was managed in the U.S."
Regarding the arrest of U.S. Istanbul Consulate General employee Metin Topuz in FETÖ cases, which prompted a visa services suspension by the U.S. embassy, Çavuşoğlu said that the U.S. thought they will get some results with this decision but Turkey gave its response, adding that there will be a joint workgroup meeting on Jan. 23.
DETAILS TO FOLLOW...