Over 4,000 undocumented migrants held in 2017 in Turkey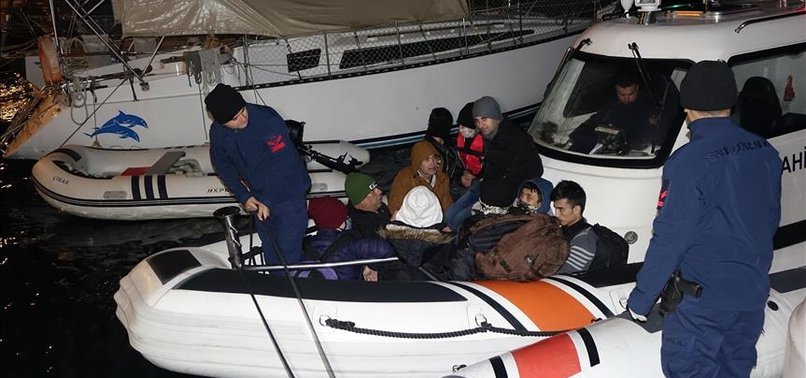 More than 4,250 undocumented migrants and refugees who were trying to reach Europe using illegal routes as well as over 100 smugglers were held in Turkey during 2017, according to a security source.
Close to 200 Turkish nationals, suspected of being members of Fetullah Terrorist Organization (FETO), were also held in the year who too were trying to escape to Europe using illegal routes.
In the ongoing operations conducted by Turkish Coast Guard, police and gendarmerie forces, undocumented migrants were held in operations across the eastern Aegean Sea and land, the source, who spoke on condition of anonymity due to restrictions on talking to the media, said.
Turkey has been a major route for refugees trying to cross into Europe, especially since the beginning of the civil war in Syria.
In total, 4,272 undocumented migrants from Syria, Myanmar, Afghanistan, Pakistan, Palestine and Iraq were held along with 105 smugglers in 2017, according to the source.
The source said intense measures against illegal migration throughout the Aegean would continue in 2018.
The smugglers initially take migrants from the touristic sights of southwestern Mugla province to forests and shores.
Some migrants end up paying around $1,500 per person to smugglers.
Turkish police, coastal guards and gendarmerie are trying their best to prevent deaths of migrants at sea.
Bodrum, an Aegean resort in southwestern Mugla province, is being patrolled day and night by security units as it is one of the closest links to the Greek island of Kos.
In total, 198 suspected Fetullah Terrorist Organization (FETO) members were separately held in 157 operations during 2017 in Mugla and neighbouring districts.
FETO and its U.S.-based leader Fetullah Gulen orchestrated the defeated coup attempt of July 15, 2016, which left 250 people martyred and nearly 2,200 injured.
Separately, 50,000 migrants and refugees were held in northwestern Edirne province last year; 15,000 migrants were from Pakistan, 12,000 others from Afghanistan and 10,000 were from Syria.
In the last 10 years, Edirne has seen rise in migrants from Pakistan, Syria, Palestine, Myanmar, Afghanistan, Morocco, Iran and Iraq. In 2017 alone, 50,000 migrants and refugees from 50 different countries have been held by Turkish security units.
There has been 60 percent increase in migrant flow since 2016; the number was 31,000 in 2016.