Turkey wants to cooperate with US in Syria, Erdoğan says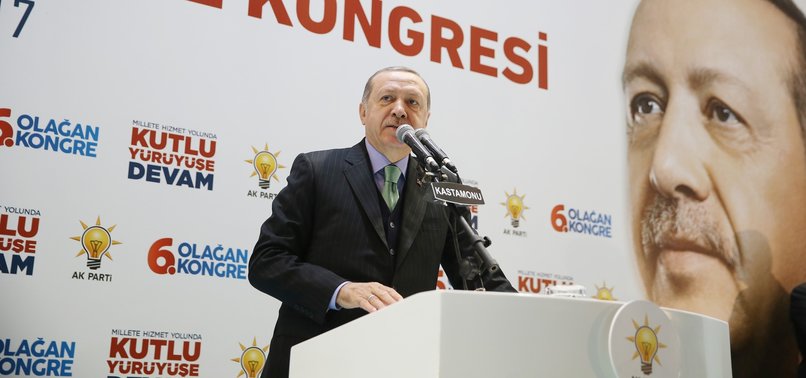 Turkey wants to cooperate with the United States in Syria the same way it does with Russia and Iran, President Recep Tayyip Erdoğan said Saturday.
Speaking during the provincial congress of ruling Justice and Development Party (AK Party) in northern province of Kastamonu, Erdoğan said Turkey would gladly welcome cooperation with the U.S. in Syria.
He also said Turkey will secure the area beyond the Syrian border from terrorists, defeating the terrorist PKK's Syria offshoot Democratic Union Party (PYD) and its armed-wing People's Protection Units (YPG) in the area.
"Since everything in Syria is a bed of roses why do three million Syrians continue to live in [Turkey]? Because both we and these people know that on that side of the border only [terror] groups' names and symbols change, [while] oppression remains. Yesterday the oppression's names was the [Assad] regime, Daesh, today the oppression's name is PYD/YPG," Erdoğan said.
Erdoğan reassured that Turkey will defeat the PYD/YPG "one way or another" in the foreseeable future.
Erdoğan also said that Turkey did not want to have a visa crisis that ended this week.
"They started the visa crisis and thanks to them, they have ended it themselves. Great. We did not want visa crisis [with the US]. It is now ended. That is what should have happened anyway," Erdoğan said.
On Thursday, the U.S. Embassy in Turkey announced the resumption of full visa services after nearly two months.
In a reciprocal move, Turkey also lifted restrictions on visa services for American citizens, according to the Turkish mission in the U.S.
On Oct. 8, the embassy suspended non-immigrant visas to Turkish nationals following the arrest of a local employee working at the U.S. Consulate in Istanbul, prompting a tit-for-tat response from Ankara.