Chinese Communist Party delegation visits AK Party HQ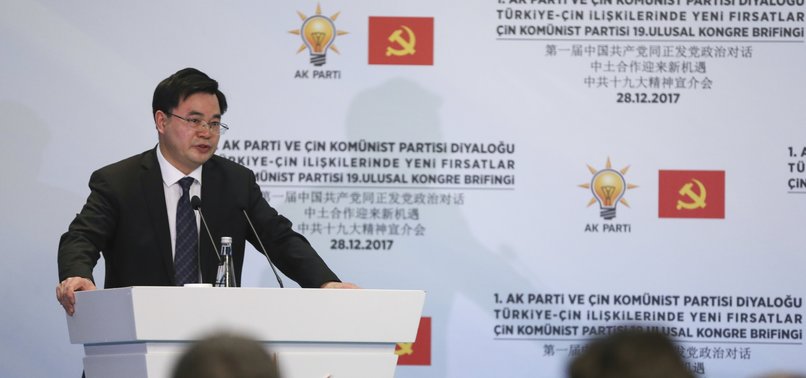 A delegation from China's Communist Party paid a visit to the headquarters of Turkey's ruling party in the capital Ankara on Thursday.
Mehdi Eker, deputy chair of the Justice and Development (AK) Party, welcomed the delegation led by Hu Changsheng, director-general of the Communist Party's Organization Department in the Fujian Province, at AK Party headquarters in Ankara.
Eker told the delegation that close cooperation between the two countries is very important for regional and global peace.
In response, Hu said they want to strengthen communication and cooperation between the two parties, adding that he wants to benefit from the AK Party's experiences.
'One Belt One Road
Eker voiced Turkey's support for the "One Belt, One Road" project, an intercontinental trade and infrastructure initiative launched by Chinese President Xi Jinping in 2013.
"Terror organizations such as Daesh, the PKK, and FETO have been struggling to halt the One Belt, One Road project through their activities in the Middle East," Eker said.
"For this reason, it is important that the People's Republic of China has close cooperation with the Republic of Turkey," he added.
The Fetullah Terrorist Organization (FETO) is responsible for last year's defeated coup in Turkey, which martyred 250 people and injured some 2,200.
During its 30-year terrorist campaign in Turkey, the PKK has taken some 40,000 lives, security personnel and civilians alike.