Experts hopeful for Erdogan's visit to Greece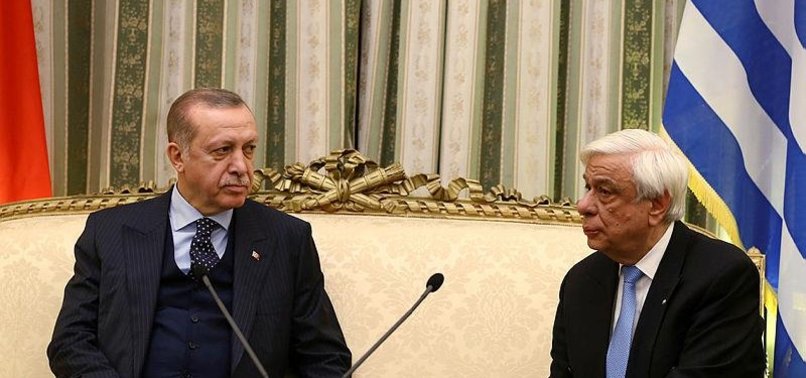 Some experts believe President Recep Tayyip Erdoğan's visit to Greece will bring bilateral issues to the table.
Erdoğan is visiting Greece on Thursday and Friday, becoming the first Turkish president to visit the country in 65 years.
Bilateral relations and regional issues will be discussed during the two-day official visit, which was planned upon the invitation of Greek President Prokopis Pavlopoulos.
"I think getting closer with Greece is one of the important steps towards fixing relations with the EU," Tarık Oğuzlu, professor at Antalya Bilim University, told Anadolu Agency.
Oguzlu said the Cyprus issue between the two countries was "long-standing". He believed the leaders would neither discuss a serious solution proposal on Cyprus or the Aegean problem, nor would they will reveal a new alternative.
"I think this is only an important step that was taken for the sake of Turkey's rapprochement with the EU," he added.
The Eastern Mediterranean island has been divided since 1974, when a Greek Cypriot coup was followed by violence against the island's Turks, and Ankara's intervention as a guarantor power.
Former Turkish EU Minister Beril Dedeoğlu said Erdoğan's visit was a "highly important" indication to further enhancing relations between Ankara and Athens.
"It [the visit] reveals the willingness to resolve the problems between the two countries," Dedeoğlu told Anadolu Agency.
Dedeoglu said the leaders are expected to discuss not only minority issues, but also economic relations and Cyprus.
She said even if the disputed issues come to the agenda, such a visit is "useful".
Another expert, Professor Birgül Demirtaş at TOBB University of Economics and Technology, said Turkey and Greece are expected to sign a number of agreements to ease transportation and trade between the two countries.
Demirtas recalled how the two neighboring countries were key for the management of the refugee crisis.
"The measures taken by Turkey and Greece, and their cooperation with the EU, prevented the migration flow to the countries of the [European] Union," Demirtaş said.
She said possible agreements on the refugee crisis to be taken by Ankara and Athens will be of particular concern to Brussels.