President Erdoğan announces companies which will produce Turkey's first domestic car
TURKEY
Agencies and A News
Published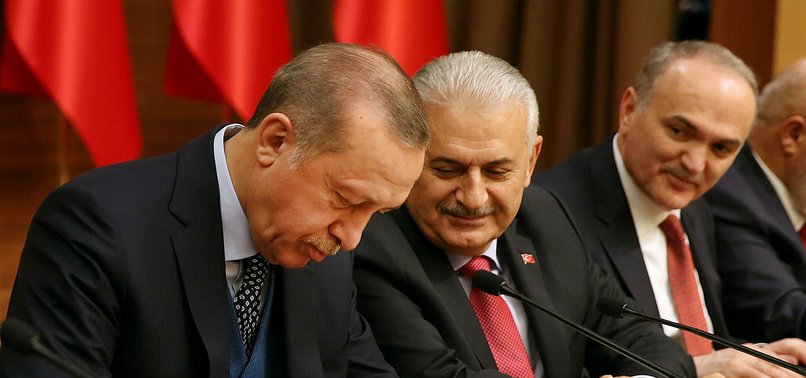 Turkih President Erdoğan on Thursday announced during a meeting with TOBB members at Beştepe Presidential Complex in Ankara that Anadolu Group, BMC, Kiraca, Turkcell, Zorlu will build Turkey's first domestic car.
Turkey launched a joint venture to produce its first domestically-produced car in capital Ankara on Thursday.
President Recep Tayyip Erdoğan, Prime Minister Binali Yıldırım, and Science, Industry and Technology Minister Faruk Özlu attended the launch of the automobile industry's joint domestic venture at the presidential palace.
Erdoğan announced that five automotive supplier firms -- Anadolu Group, BMC, Kıraça Holding, Turkcell, and Zorlu Holding -- will jointly manufacture Turkey's first domestically-made car.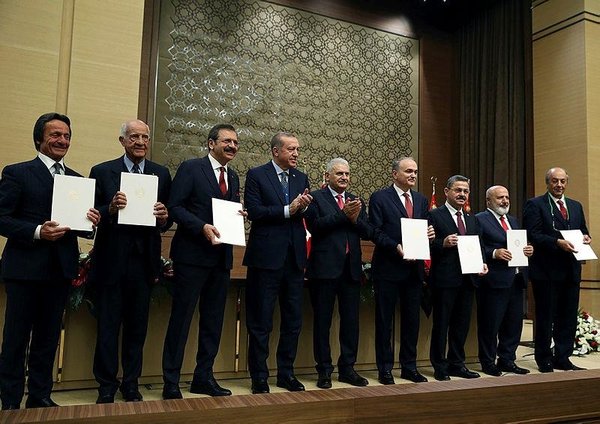 The president expressed his gratitude to the firms and promised his "full support" for the venture.
"I will closely follow the developments," he added.
The initiative came after repeated calls from Erdoğan for a joint car project of the Union of Chambers and Commodity Exchanges (TOBB), and the Science, Industry and Technology Ministry.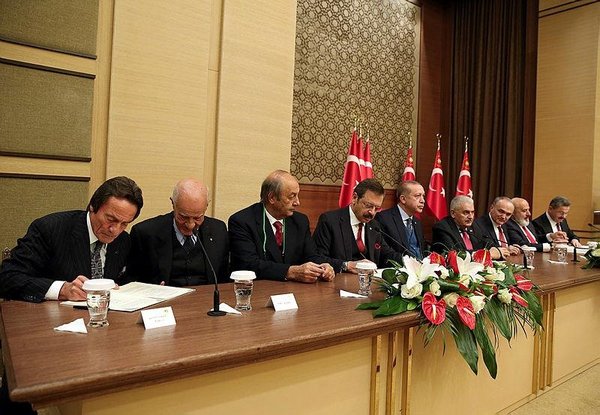 Erdoğan said he expected the prototype of the first domestically-produced car to be ready in 2019 and sales to start in 2021.
"I want to own the first automobile, provided that I will pay for it," he said.
"No one should hesitate. We will produce Turkey's car with the best design and technology, both for our country and the world."
The president said it was a shame for Turkey to fall behind in manufacturing its domestically-produced car, noting that over 750,000 automobiles were sold in the country last year.
- 'HISTORIC STEP'
"Today, we are taking a historic step to get rid of this shame," he added.
Yıldırım said the project "will add new success to the ongoing achievements of Turkey".
According to export figures released in October, export was highest in the automotive sector with over $2.6 billion, he said.
"It is out of the question for Turkey to not produce cars domestically as it has become so competent in the automotive sector."
According to the Automotive Distributors' Association, 423,198 cars were sold in the first eight months of this year; 294,037 of these cars were imported while 129,161 were produced domestically.
Meanwhile, the total number of imported automobiles during the same period shrunk by 25 percent while local manufacturing went up 20 percent, compared with the first eight months of last year.
TOBB President Rıfat Hisarcıklıoğlu said the five companies of the consortium have 110,000 employees and that their last year's production is close to 65 billion Turkish liras.
"We will work very hard for 3-4 months. We will analyze alternative technologies and funding opportunities. We will design our state support for this project together with our ministry in accordance with the instructions of our president and we will build our company in the first months of 2018," he said.
Turkey attempted to produce its first domestically-produced car in 1961, called Devrim (Revolution), which was not a success. The production of Devrim cars was halted after first prototypes.