Turkish Interior Minister meets Senegalese President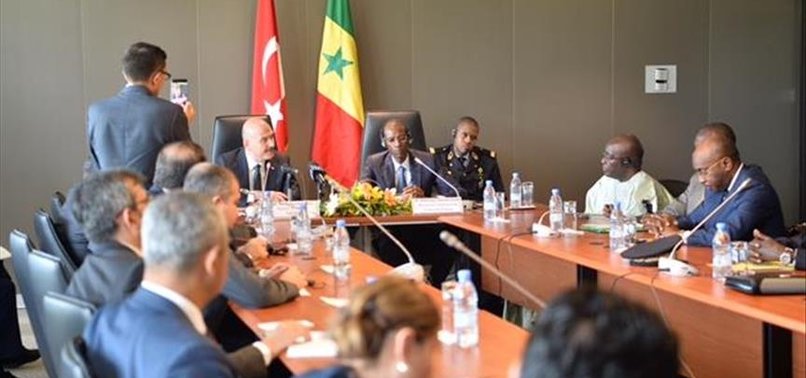 Turkish Interior Minister Suleyman Soylu says expedition of double taxation treaty between two countries was discussed
Turkish Interior Minister Suleyman Soylu (C - L) and with Senegalese Interior Minister Abdoulaye Daouda Diallo (C - R) attend the 4th term meeting of Senegal - Turkey Joint Economic Commission (KEK) in Dakar, Senegal on September 06, 2017. ( Alaattin Doğru - Anadolu Agency )
Turkish Interior Minister Suleyman Soylu on Wednesday met Senegalese President Macky Sall on the sidelines of the 4th term meeting of Senegal - Turkey Joint Economic Commission in Dakar, Senegal.
Speaking at a news conference after the private meeting, Soylu said they discussed a number of matters during the meeting, including bilateral relations.
He said they discussed a double taxation treaty regarding renewable energy, food, and agriculture which the two countries previously agreed to in 2015.
Soylu also said that the Senegalese government will soon send a delegation for a joint security practice on public order, traffic, and security areas.
Senegal and Turkey are rising values in the world thanks to democracy and stability, Soylu added.
The minister was accompanied by Turkey's Ambassador to Dakar, Nilgun Erdem Ari.