Turkish Premier Yıldırım announces new cabinet members
Turkish Prime Minister Binali Yıldırım announced major Cabinet reshuffle on Wendesday.
Five new ministers joined the Turkish Cabinet on Wednesday in a reshuffle of government posts.
Prime Minister Binali Yıldırım announced the changes following an unscheduled meeting with President Recep Tayyip Erdoğan at the Presidential Palace in Ankara.
Three ministers were promoted to deputy prime minister positions -- Justice Minister Bekir Bozdağ, Defense Minister Fikri Işık and Health Minister Recep Akdağ.
Hakan Çavuşoğlu, a lawmaker from the northwestern province of Bursa, was also appointed as a deputy prime minister without having previously held a Cabinet post while Mehmet Şimşek retained his position as one of five deputies to Yıldırım.
The five ministerial newcomers included Julide Sarıeroğlu, who became labor and social security minister and the second female Cabinet member.
Also appointed were Abdulhamit Gül, who was assigned the Justice Ministry portfolio; Osman Aşkın Bak, who became youth and sports minister; new Health Minister Ahmet Demircan; and Ahmet Eşref Fakıbaba, appointed to the Food, Agriculture and Livestock Ministry.
Six existing ministers were reappointed, meaning a total of 11 changes in the 27-member Cabinet.
The reshuffle followed April's constitutional referendum that allowed Erdoğan to resume his official ties to the ruling Justice and Development (AK) Party.
Erdoğan led the AK Party for 13 years from 2001 but had to step aside when he became president in August 2014, due to a legal requirement for presidents to be politically neutral.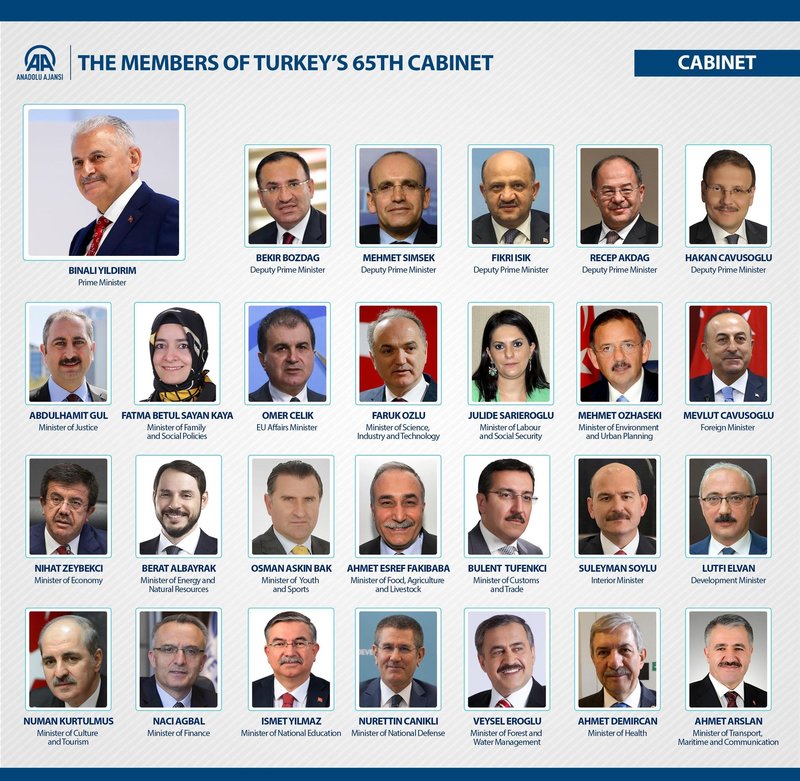 NEW MINISTERS
That requirement was removed by April's vote.
The new Labour and Social Security Minister Sarıeroğlu, from Adana province in southern Turkey, was born in 1979.
She studied labor economics and industrial relations at Gazi University, Ankara. She has authored several books on labor relations and was previously an executive member of the AK Party's women's branch.
Çavuşoğlu, who was born in Greece's Turkish community in 1972, studied law at Ankara University. He speaks Greek, English and Arabic.
Gul, a deputy from the southeastern province of Gaziantep, is also an Ankara University law graduate and is a member of the AK Party's central executive.
Bak, a lawmaker from Istanbul, was born in 1966. He studied engineering at Istanbul Technical University and has a business and industrial engineering masters from Nottingham University in the U.K.
The new youth and sports minister speaks English, German and Persian.
Health Minister Ahmet Demircan was born in the Black Sea province of Samsun in 1954. He studied medicine at Atatürk University, Erzurum, and speaks English and Arabic.
Fakıbaba is another medical graduate from Ataturk University. He was born in Şanlıurfa province in 1951 and served as mayor of Şanlıurfa in southeast Turkey for two terms. Fakıbaba speaks English.
Tugrul Turkeş, Veysi Kaynak, Mehmet Müezzinoğlu, Çağatay Kılıç, Faruk Çelik and Nabi Avcı lost their ministerial posts.

New Cabinet is as follows:
- Prime Minister Binali Yıldırım
- Deputy prime ministers
Bekir Bozdağ (former justice minister)
Mehmet Şimşek
Fikri Işık (former defense minister)
Recep Akdağ (former health minister)
Hakan Cavuşoğlu
- Other ministers
Justice Minister Abdulhamit Gül
Family and Social Policies Minister Fatma Betül Sayan Kaya
European Union Minister Ömer Çelik
Science, Industry and Technology Minister Faruk Özlü
Labor and Social Security Minister Julide Sarıeroğlu
Environment and Urban Planning Minister Mehmet Özhaseki
Economy Minister Nihat Zeybekci
Foreign Minister Mevlüt Çavuşoğlu
Energy and Natural Resources Minister Berat Albayrak
Youth and Sports Minister Osman Aşkın Bak
Food, Agriculture and Livestock Minister Ahmet Esref Fakıbaba
Customs and Trade Minister Bülent Tüfenkçi
Interior Minister Süleyman Soylu
Development Minister Lütfi Elvan
Culture and Tourism Minister Numan Kurtulmuş (former deputy PM)
Finance Minister Naci Ağbal
National Education Minister İsmet Yılmaz
National Defense Minister Nurettin Canikli (Former Deputy PM)
Forestry and Water Affairs Minister Veysel Eroğlu
Health Minister Ahmet Demircan
Transport, Maritime and Communication Minister Ahmet Arslan