You saved Turkey's future, President Erdoğan addresses rally
TURKEY
Agencies and A News
Published
Turkish President Erdoğan has joined national unity gathering in Istanbul to mark first anniversary of defeated July 15 coup bid.
President Recep Tayyip Erdoğan Saturday vowed not to let last year defeated coup be forgotten, as millions converged at Istanbul's iconic bridge to mark anniversary of the coup bid.
Addressing the massive gathering, Erdoğan said the nation could face new coup attempts if it doesn't learn lessons from the July 15 coup attempt.


"We will not forget, [and] will not let it [defeated coup] be forgotten. If we do not learn the lessons from July 15, new July 15s would be inevitable," he said.
The Fetullah Terrorist Organization (FETO) and its U.S.-based leader Fetullah Gulen orchestrated the defeated coup of July 2016, which left 249 people martyred and nearly 2,200 injured.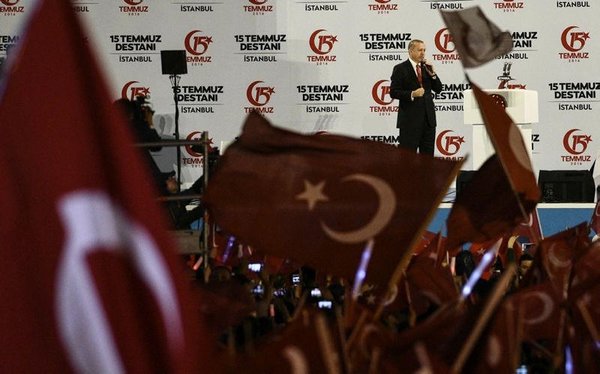 Ankara has also said FETO is behind a long-running campaign to overthrow the state through the infiltration of Turkish institutions, particularly the military, police and judiciary.

President Erdoğan on Saturday spoke before millions of people at an iconic Istanbul bridge, calling the botched overthrow of the government a "treacherous attempt." Erdoğan said Turkey's citizens, following his call to resist, had saved Turkey's future.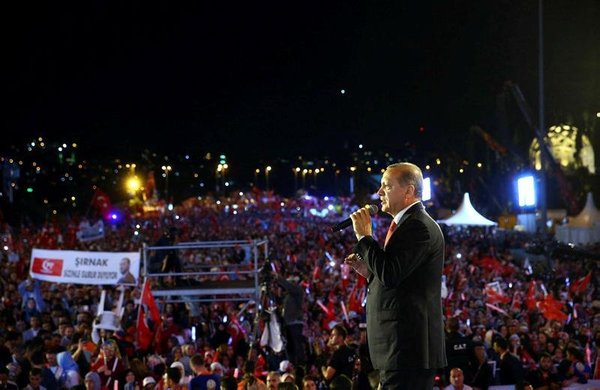 "We paid a price ... but there is no price for the independence and future we obtained in return for that sacrifice," he said, referring to the deaths of 249 people at the hands of the plotters.
He meanwhile lashed out at claims from the opposition that the government had foreknowledge of the coup and let it play out to its own advantage in a so-called "controlled" putsch.
"This is a shame, this is an immorality," Erdoğan said. "This is a disrespect, an insult to our people," he added.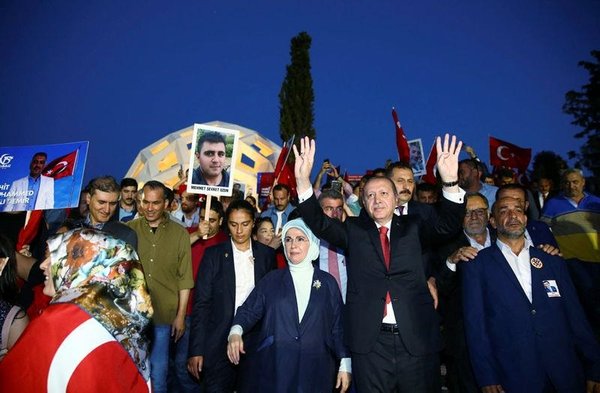 Turkey's president has likened the defeat of last year's July 15 military coup attempt to Turkey's independence war nearly a hundred years ago.
Erdoğan warned that the coup attempt "was not the first and would not be the last" and warned terror groups would work to undermine the country. "Therefore we will first rip their heads off," he said to cheering crowds, adding he would approve a bill reinstating the death penalty if parliament proposed it.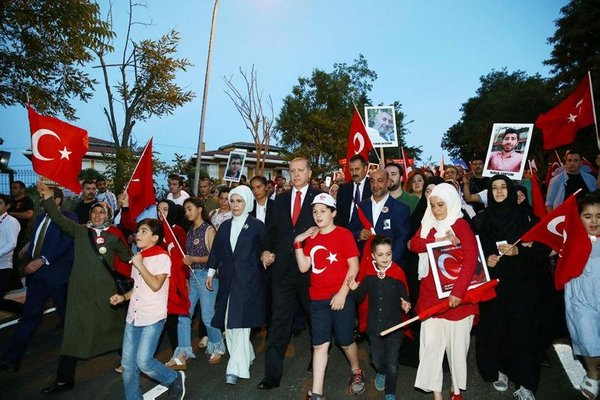 The commemoration ceremony began at July 15 Martyrs' Bridge with national anthem, followed by a recitation of the Quran.
The names of the martyrs were read out and their pictures were also displayed on big screens installed at the venue.
The president said the bridge saw bloodiest scene and biggest resistance in which 36 people lost their lives. He thanked Turkish nation for showing resistance against the coup plotters.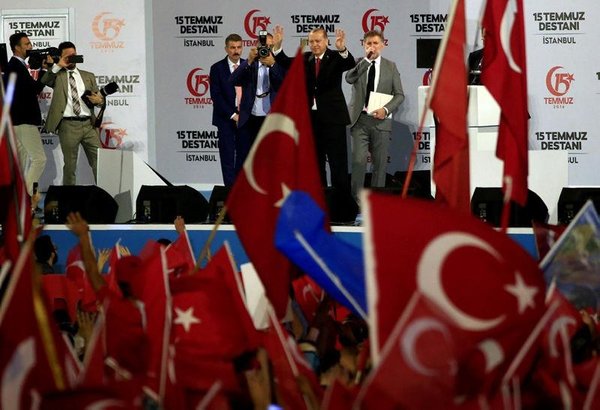 "First of all we will chop off the heads of those traitors," Erdoğan told a rally in Istanbul, prompting cries from the crowds that capital punishment should be restored in Turkey.
Reaffirming previous comments, he vowed to sign any bill passed by parliament to restore capital punishment in Turkey, a move that would effectively end Ankara's European Union membership ambitions.
"We are a state governed by rule of law. If it comes to me after parliament, I will sign it," he said.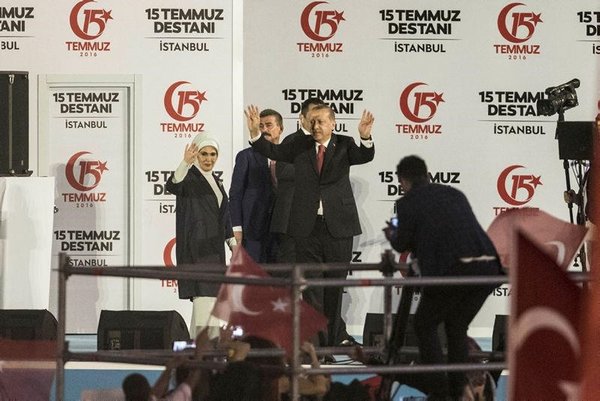 Erdoğan on Saturday said the suspects being tried on suspicion of involvement in last year's failed coup should wear uniform clothing like the notorious orange jumpsuits used at US military prison at Guantanamo Bay.
"I spoke to the prime minister and.... when they appear in court, let's make them appear in uniform suits like in Guantanamo," Erdoğan told a rally, after a controversy where one suspect was seen going into court with the word "hero" on a T-shirt.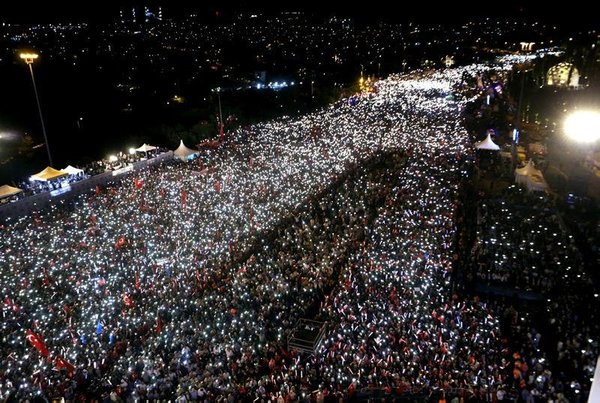 In the wake of the putsch attempt, tens of thousands of FETO suspects have been arrested, including many in the armed forces, police, judicial system, education and business sectors.
Later, the president unveiled the Monument of Martyrs near July 15 Martyrs' Bridge to honor those who lost their lives while resisting the putsch.
Earlier, having gathered in Beylerbeyi, Çengelkoy, Altunizade and Kısıklı districts of the Asian side of the city, people marched to the bridge amid tight security.
The bridge was closed by putschists on the night of the coup attempt.