US uses 2 hurdlers to dominate 4x400 relay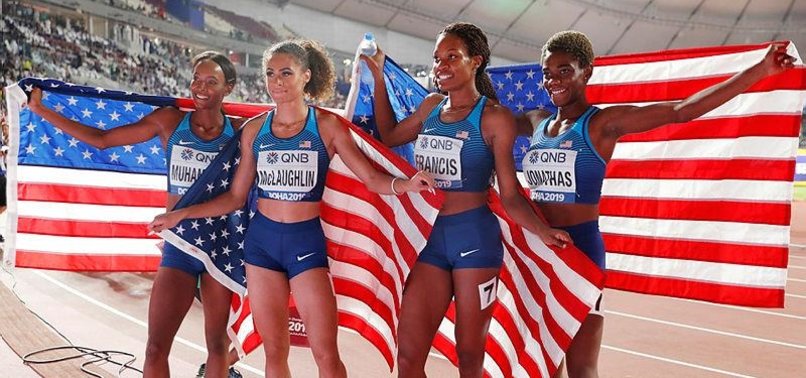 Dalilah Muhammad bagged her second gold medal of the World Championships on Sunday as the United States cruised to victory in the women's 4x400m relay. Muhammad, who set a world record en route to her 400m hurdles gold on Friday, ran a blistering third leg for the USA who won in a time of 3min 18.92sec.
The United States has dominated the women's 4x400-meter relay by using two hurdlers in the final.
The U.S. took the lead on the opening leg with Phyllis Francis, stretched the advantage with hurdlers Sydney McLaughlin and Dalilah Muhammad, before Wadeline Jonathas brought the win home in 3 minutes 18.92 seconds.
Poland snatched silver when Jamaica's Shericka Jackson faded on the final straight and dropped to bronze.
Allyson Felix didn't run for the U.S. in the final, but receives her record 13th world championship gold because she competed in the heats. Earlier this week, Muhammad set the world record in the 400-meter hurdles, just barely beating McLaughlin.
Minutes earlier, Anderson Peters won the men's javelin for Grenada with a throw of 86.89 meters after his closest rival Magnus Kirt withdrew injured.
That caps a breakout season for Peters, who won his second NCAA title for Mississippi State and gold at the Pan-American Games.
Kirt fell on his elbow during his fifth throw and was stretchered off with ice on his shoulder. However, his throw of 86.21 was still enough for silver ahead of third-place German Johannes Vetter.