Transfer payment for late Sala still disputed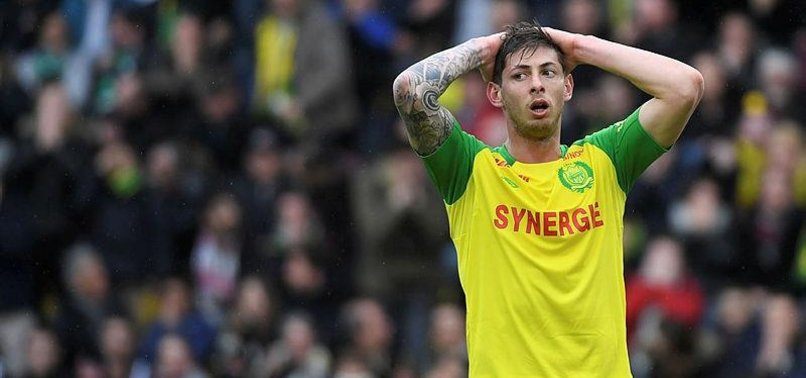 Legal experts see a deadlock in the transfer payment of Argentine striker Emiliano Sala, who died in a plane crash in January as the payment of £15 million ($19.3 million) transfer fee is still uncertain.
Emin Özkurt, a Court of Arbitration for Sport (CAS) judge and legal expert from Turkey, told Anadolu Agency on Wednesday that there are two contracts, the one between English Premier League team Cardiff City and French club Nantes and the other one between Sala and Cardiff City.
Özkurt said that the parties are acting in line with these two contracts, so Sala was officially transferred to Cardiff City.
"Sala's death is a reason to end the contract between Cardiff City and the player," he asserted, saying it was a service contract and Sala is unable to serve for Cardiff City.
"The contract between Cardiff City and Sala ends automatically," Özkurt said.
However, the contract between two clubs -- Cardiff City and Nantes -- is still valid, he said.
"Sala's death won't change the current situation. The player's contract with Nantes was annulled, so Nantes had trading loss.
"The contract between Cardiff City and Nantes for Sala's move to the English club is still valid. So we can say that the contract inked by the clubs are binding each other."
Ozturk said that Nantes is likely to be proved right on a legal platform if carried.
The parties of agreement can also apply to CAS following to a court decision about Sala's payment.
- 'NANTES HAS RIGHT TO DEMAND TRANSFER FEE'
Alpay Köse, Sports Law Institute executive in Istanbul, said that Sala's move to Cardiff City was submitted to FIFA on Jan. 18, days before the crash.
"Sala was a player of Cardiff City on Jan. 21, when the crash happened, so Nantes has legal basis to demand the transfer fee," Köse said as Sala signed into English Club on Feb. 19.
Köse said that FIFA regulations are applicable in players' international transfers but there is not any specific clause about this issue, so there is a legal gap in the regulations.
"It's obvious that the transfer fee should be paid but in this case the parties don't have faults," Köse said, adding an instalment of £15 million may be paid.
- SALA'S DEATH MAKES DEAL BETWEEN CLUBS COMPLICATED
According to Ali Pasli, a law professor at Istanbul University, Cardiff City should pay for Nantes.
Pasli said that Cardiff City assert that Sala didn't sign the documents necessary to complete his move.
"The terms of the contract will not gain validity as Sala died, and the deal [between Cardiff City and Sala] ends," Pasli said.
Cardiff City were due to pay the first of three instalments of £15 million for Sala's previous team, Nantes.
Cardiff City should have paid the first instalment on Feb. 20 but the clubs agreed to delay it for a week.
Sala, 28, was on his way to join his new club on Jan. 21 after he signed the contract, however, the ill-fated plane carrying him from Nantes to Cardiff vanished from radars near the Channel Islands.
Sala spent the majority of his career in France, playing for Bordeaux, US Orleans, FC Chamois Niort, SM Caen and Nantes.
He played in 200 club matches, where he scored 73 goals during his career.
This season, Sala scored 12 goals in 19 French top-tier division appearances as he was on Cardiff City's radar.
Cardiff City signed him from Nantes on Jan. 19 for £15 million.
The wreckage of a plane was found by a private search boat on Feb. 3 where his body was recovered from the single-turbine airplane.
British police confirmed on Feb. 7 that a body recovered from the wreckage in the English Channel was Sala's. The body of David Ibbotson, the pilot, has yet to be recovered.