Bucks rout Magic for season-opening 6th straight win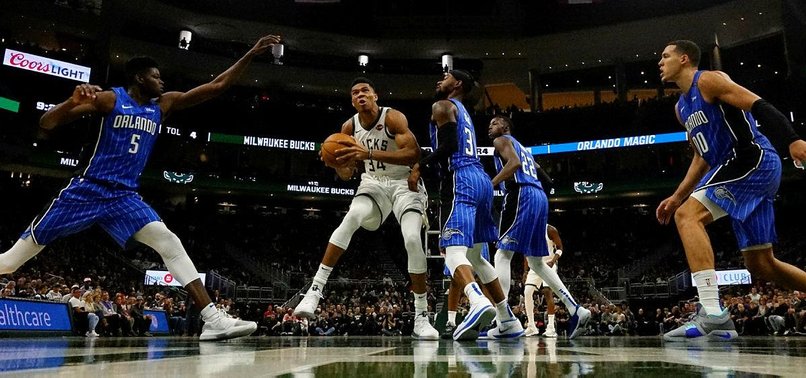 Giannis Antetokounmpo scored 21 points and grabbed seven rebounds in just 19 minutes as the Milwaukee Bucks remained undefeated with a 113-91 victory over the visiting Orlando Magic on Saturday night.
Milwaukee's 6-0 start is the team's best since the 1971-72 squad led by future Hall of Famers Kareem Abdul-Jabbar and Oscar Robertson opened the season with seven straight wins the year after winning the franchise's only NBA championship.
The Bucks host the NBA's only other undefeated team, the Toronto Raptors (6-0), on Monday night.
Khris Middleton had 18 points and seven rebounds, Malcolm Brogdon scored 16 points and Donte DiVincenzo added 15 points off the bench for the Bucks, who shot 50 percent from the floor and outrebounded the Magic, 57-41. Ersan Ilyasova finished with 10 rebounds and six assists, both game highs.
Nikola Vucevic led Orlando, which shot just 32.7 percent from the floor, with 16 points and nine rebounds.
Milwaukee, playing its first back-to-back of the season and coming off a 125-95 blowout win at Minnesota, showed no signs of sluggishness, shooting 60 percent from the floor, blocking five shots and using a 10-5 run to close out the first quarter to take a 30-25 lead.
The Bucks, who lead the NBA with a 66.8 point first-half scoring average, stretched the lead to 14 after a steal and step-back jumper by Eric Bledsoe with 3:18 to go in the second quarter en route to a 65-51 halftime lead.
With Antetokounmpo in the locker room getting treated for a cut lip from an Aaron Gordon elbow to start the second half, Milwaukee still extended its lead to 18 points, 75-57, on a pair of Bledsoe free throws in the third quarter.
Orlando got as close as 15 points, 82-67, after a 3-pointer by Evan Fournier, but the Bucks broke the game open with an 11-0 run featuring a pair of alley-oop dunks by DiVincenzo and one by John Henson and a 3-pointer by Middleton to lead 93-68 after three quarters.
Antetokounmpo returned to score four points in the fourth quarter as Milwaukee's lead ballooned to 29 points.