Özil, Gündoğan put the boot in by German figures for posing with Turkey's Erdoğan
SPORT
Agencies and A News
Published
Turkish-origin Mesut Özil and İlkay Gündoğan, who have been playing for German national football team, were unfairly criticized by German personalities after posing with Turkey's President Recep Tayyip Erdoğan during his official visit in the British capital London.
A mud slinging campaign has been launched by German media and senior political figures after Turkish-origin Mesut Özil and İlkay Gündoğan [playing for German national team] were took photographs with Turkish President Erdoğan during his official visit in London on last Sunday.

Germany's DFB soccer federation and several German politicians have unfairly criticised two top national soccer players for posing for a photo with Turkish President Tayyip Erdoğan.

DFB President Reinhard Grindel said the federation respected the special situation of the players, Mesut Özil and İlkay Gündoğan, who have Turkish roots, but claimed that they had been used by Erdoğan in his campaign for next month's elections in Turkey.




The pictures, taken in London on Sunday and published by Erdoğan's ruling AK Party, show Özil and Gündoğan standing next to the president, all three beaming, and giving him shirts from their English clubs - Arsenal and Manchester City respectively.

Gündoğan's shirt had "With respect for my president" written on it.

"Football and the DFB stand for values that are not sufficiently respected by Mr Erdoğan," the DFB's Grindel tweeted. "Our players have not helped our integration work."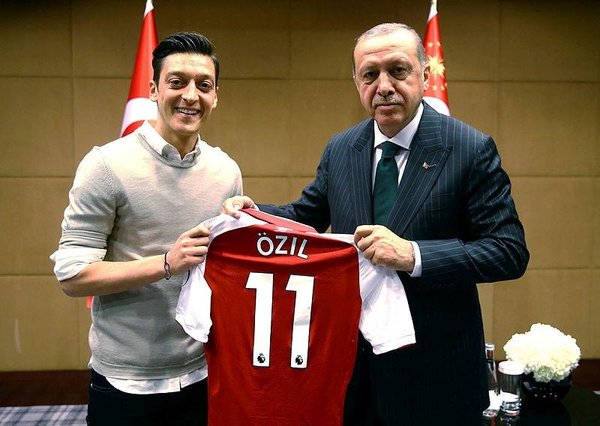 Erdoğan is a keen soccer fan and as a young man played the game at a semi-professional level.

The pictures also drew criticism from German lawmakers from both left and right. Veteran Greens lawmaker Cem Özdemir, with Turkish roots, described them as tasteless and embarrassing.

"Posing with the Turkish president is not exemplary behaviour and is not appropriate for German national players," said Social Democrat deputy leader Ralf Stegner.

A commentary in top-selling Bild, which ran the photos on its front page, said: "If you have a moral position, you don't laugh into the camera with Erdoğan. The main question is whether the two German national players still fit into our German team. I say yes. They are political idiots. But football geniuses."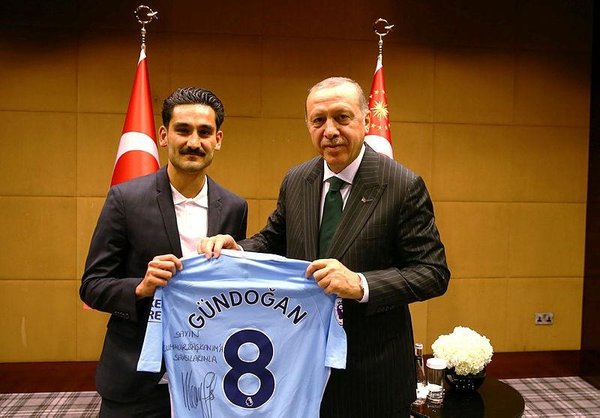 Germany coach Joachim Loew names his provisional squad for the World Cup in Russia later on Tuesday.

Gündoğan later said he had not meant to make a political statement or get involved in an election campaign.

TFF Turkish Football Federation Vice President Servet Yardımcı, a UEFA Executive Committee member, said Erdoğan liked meeting soccer players but that Özil and Gündoğan were not part of the election campaign.

"We have to be fair, there is no intention whatsoever to get them involved," he told a briefing in London on Monday. "They are Turkish but are playing for German national team and I don't think it's fair to involve them."