Greek football league suspended after PAOK chairman pistol incident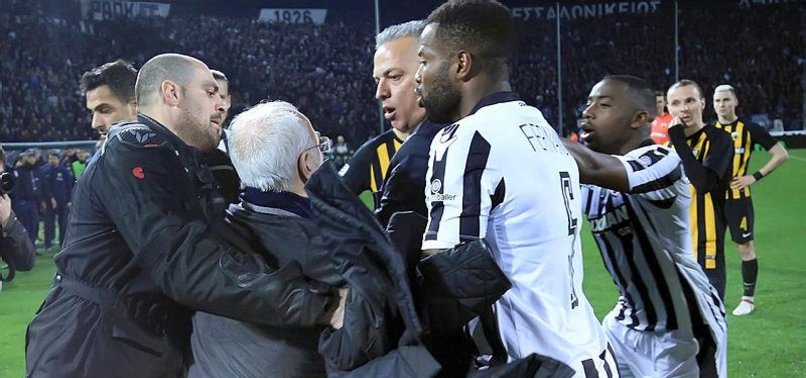 The Greek football championship was suspended on Monday following repeated fan rioting and the decision of PAOK Salonika's chairman on Sunday to confront a referee while armed with a pistol.
Speaking on Greek television after a meeting with Prime Minister Alexis Tsipras, Deputy Minister for Sport Dimitris Vassiliadis said that the suspension of the Superleague Greece - the first tier of Greek football - would last for "an indefinite period."
"There will soon be meetings and talks with the football association, the clubs and (European body) UEFA," Vassiliadis added.
The game between PAOK Salonika and league leaders AEK Athens was suspended on Sunday when, enraged by a disallowed goal against his team, PAOK chairman Ivan Savvidis entered the field of play to confront the referee while carrying a holstered pistol. A warrant was issued for his arrest on Monday.
The referee and his assistants fled for their dressing room. Two hours after suspending the game, the referee told the captains of both teams that he had changed his mind and that the goal stood, whereupon the AEK players refused to take the field to play out the remaining few minutes.
It is not the first home game that PAOK have failed to complete this season. Their match against Olympiakos on February 25 was suspended before kick-off after the visitors' coach Oscar Garcia was struck on the head by a toilet roll thrown by a PAOK fan.
The game did not take place and Olympiakos were awarded a 3-0 victory.