US says Iran's failure to address IAEA concerns "unacceptable"
MIDDLE EAST
Agencies and A News
Published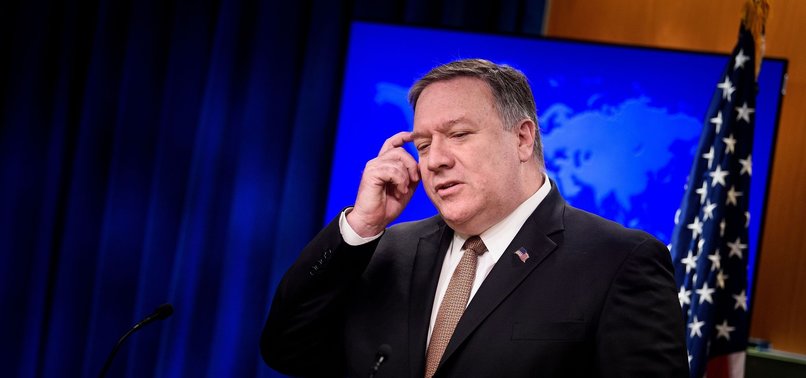 The United States on Tuesday joined Israel in alleging "possible undeclared nuclear activities" by Iran, further straining European-led attempts to salvage a multinational deal. "The Iranian regime's lack of full cooperation with @iaeaorg raises questions about possible undeclared nuclear material or activities. The world won't fall for it. We will deny the regime all paths to a nuclear weapon," Pompeo tweeted.
The United States on Tuesday said it was "totally unacceptable" for Iran to drag its feet in cooperating with the U.N. nuclear watchdog, which is seeking answers to issues that diplomats say include the discovery of uranium traces at an undeclared site.
The International Atomic Energy Agency, which is policing Iran's nuclear deal with major powers, has called in recent days on Iran to step up its cooperation, warning "time is of the essence".
While the watchdog has declined to comment on what prompted the warning, diplomats told Reuters inspectors had found traces of uranium at a site in Iran which Israel has described as a "secret atomic warehouse".
"Any indication that Iran is providing insufficient cooperation to the IAEA on a matter involving potential undeclared nuclear material or activities raises serious and profound questions," the U.S. statement to a quarterly IAEA Board of Governors meeting said.
"Iran's failure to resolve the Agency's concerns on this matter is completely unacceptable and should be of deep concern to all who support the IAEA and its safeguards verification regime."
Iran has guaranteed the IAEA access to its nuclear programme as part of a 2015 deal with world powers under which Tehran accepted curbs on its atomic activities in return for access to world trade.
The United States withdrew from the agreement last year and imposed sanctions on Iran with the aim of halting its oil exports and forcing Tehran to negotiate a more sweeping "comprehensive deal".
Iran has said it will negotiate only if Washington lifts the sanctions. In the meantime, it has begun breaching some of the deal's restrictions on its atomic activities, in what it calls a step-by-step, reversible response to the U.S. withdrawal and the failure of European countries to protect it from U.S. measures.
The IAEA's acting chief Cornel Feruta has travelled to Tehran in recent days. He said his call to step up cooperation was "very well understood" by Iranian officials he met. His agency has declined to comment on the specifics of its questions as they are confidential.
"Any potential delay, denial, or deception by Iran that inhibits the IAEA's essential safeguards verification work must be addressed immediately," the U.S. statement said.
"Refusal by Iran to do so will only underscore our concern that the matters before us may relate to serious questions regarding Iran's compliance with its safeguards obligations."

US AND EU URGE IRAN TO ADDRESS UNANSWERED NUCLEAR QUESTIONS
Iran must cooperate quickly with international inspectors who are seeking to find out whether it has really declared its entire nuclear programme, the United States and the European Union demanded Tuesday.
"Let me say as clearly as possible, Iran must immediately provide the IAEA nothing short of full cooperation," US envoy Jackie Wolcott said.
Iran's past nuclear weapons research heightens concerns about these latest developments, she said.
In a joint statement, EU countries expressed concern about Feruta's comments. "We urge Iran to cooperate fully and especially also in a timely manner with the IAEA," the statement said.
Neither the US nor the EU claimed that Iran's lack of cooperation breaches its 2015 pact with major powers, which has curbed Iran's ability to enrich uranium for nuclear weapons, in return for sanctions relief.
However, in response to Washington's exit from the pact, Iran has surpassed key enrichment limits.
Iran's most recent step to boost enrichment research "is inconsistent" with the 2015 pact, the EU said.

US STEPS UP ANTI-IRAN CAMPAIGN AHEAD OF UN GENERAL ASSEMBLY
U.S. President Donald Trump's administration is stepping up its campaign to get other nations to boost pressure on Iran as world leaders prepare to meet at the United Nations this month.
The administration says the world should take note of and act on admitted Iranian noncompliance with the 2015 nuclear deal and new questions about Iran's activities raised by the U.N. atomic watchdog. The U.S. has been ratcheting up its own sanctions on Iran since Trump withdrew from the nuclear deal last year.
Secretary of State Mike Pompeo said Tuesday that Iran is trying to deceive the world by refusing to fully cooperate with the International Atomic Energy Agency. The agency's head said Monday he'd stressed the importance of "full" cooperation with it.
"The world won't fall for it. We will deny the regime all paths to a nuclear weapon."
The new charges come in a fraught political climate, with French President Emmanuel Macron leading efforts to save a 2015 nuclear accord with Iran from which President Donald Trump withdrew the United States.
Macron proposed a summit between Trump and the Iranian leadership, a prospect that sparked interest from the mogul-turned-president but which is adamantly opposed by Netanyahu, who is facing elections next week and sees Iran as an existential threat.
In an address on live television, Netanyahu showed pictures of an alleged site near Abadeh, south of Isfahan, where he said Iran conducted experiments to develop nuclear weapons.
Netanyahu said Israel found out about the site during a daring, previously announced raid into Tehran and that the regime demolished the site sometime between late June and late July after realizing that the Jewish state was aware.
Responding to Netanyahu, Iranian Foreign Minister Mohammad Javad Zarif pointed out that Israel itself has a secret, but widely known, nuclear program.
"The possessor of REAL nukes cries wolf -- on an alleged 'demolished' site in Iran," he tweeted, as he also pointed to Netanyahu's comments as a private citizen in 2002 in support of invading Iraq.
Daryl Kimball, executive director of the Arms Control Association, a non-governmental organization in Washington, said that the United States and Israel should recognize that IAEA access in Iran came thanks to the 2015 nuclear accord.
"If any IAEA member-state including the United States or Israel has credible information, they should give it to the agency rather than make a public-relations show out of this," Kimball said.
"As with many allegations about particular sites, it's the agency that needs to investigate because it's the only authority that has the technical means and objectivity to come up with the right conclusions," he said.
Kimball believed there was still a window for Macron's efforts to succeed, especially as Trump relishes an unorthodox approach to diplomacy.
But he warned that time may be running out, with Iran taking a series of steps to come out of strict compliance with the 2015 accord.
SERIES OF NUCLEAR STEPS
In the latest move, the IAEA confirmed that Iran was installing centrifuges at its Natanz facility that were more advanced than those allowed under the nuclear deal.
Iran wants to take small but symbolic steps to show its disappointment that it has not reaped benefits from the nuclear accord, under which it was promised sanctions relief in return for compliance.
Trump has imposed sweeping unilateral sanctions that include a ban on all oil sales from Iran.
In one incident that raised further concerns, Britain said that an Iranian oil tanker that had been held for six weeks in Gibraltar had gone ahead to Syria.
Britain said Iran had breached assurances that the ship would not go to Syria, which is under EU sanctions over President Bashar al-Assad's devastating civil war campaign.
US national security advisor John Bolton said that the episode showed that Iran is "working overtime on deception."