US says Iran behind attacks on 2 tankers near Persian Gulf
MIDDLE EAST
Compiled from wire services
Published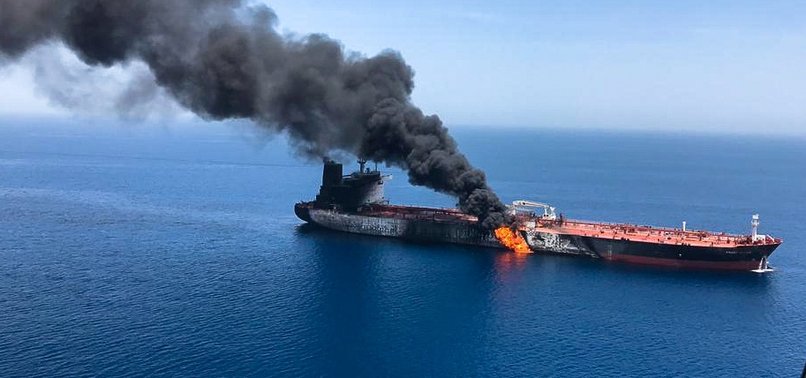 The U.S. on Thursday formally blamed Iran for attacks on two oil tankers near the Strait of Hormuz amid heightened tensions between the nations.
U.S. Secretary of State Mike Pompeo says the U.S. believes that Iran is responsible for attacks that damaged two oil tankers near the Persian Gulf.
"It is the assessment of the United States government that the Islamic Republic of Iran is responsible for the attacks that occurred in the Gulf of Oman today," Pompeo told reporters.
"This assessment is based on intelligence, the weapons used, the level of expertise needed to execute the operation, recent similar Iranian attacks on shipping, and the fact that no proxy group operating in the area has the resources and proficiency to act with such a high degree of sophistication," Pompeo said.
Two oil tankers were attacked on Thursday and left adrift in the Gulf of Oman. The attack drove up oil prices and stoked fears of a new confrontation between Iran and the United States.
The White House said President Donald Trump had been briefed.
Washington accused Tehran of being behind a similar attack on May 12 on four tankers in the same area, a vital shipping route through which much of the world's oil passes.
Iran denied being involved in the attacks last month and its foreign minister called the timing of Thursday's incidents suspicious, given that Japanese Prime Minister Shinzo Abe was meeting Supreme Leader Ayatollah Ali Khamenei in Tehran.
Pompeo noted that Abe had asked Iran to enter into talks with Washington but Tehran "rejected" the overture.
"The supreme leader's government then insulted Japan by attacking a Japanese-owned oil tanker just outside Iranian waters, threatening the lives of the entire crew, creating a maritime emergency," Pompeo added.
Iran previously used mines against oil tankers in 1987 and 1988 in the "Tanker War," which saw the U.S. Navy escort ships through the region. Regardless of who is responsible, the price of a barrel of benchmark Brent crude spiked as much as 4% immediately after the attack, showing how critical the region remains to the global economy.
"The shipping industry views this as an escalation of the situation, and we are just about as close to a conflict without there being an actual armed conflict, so the tensions are very high," said Jakob P. Larsen, head of maritime security for BIMCO, the largest international association representing ship owners.
The suspected attacks occurred at dawn Thursday about 40 kilometers (25 miles) off the southern coast of Iran. The Front Altair, loaded with naphtha from the United Arab Emirates, radioed for help as it caught fire. A short time later, the Kokuka Courageous, loaded with methanol from Saudi Arabia and Qatar, also called for help.