Syrian children continue to bear brunt of conflict
MIDDLE EAST
Anadolu Agency
Published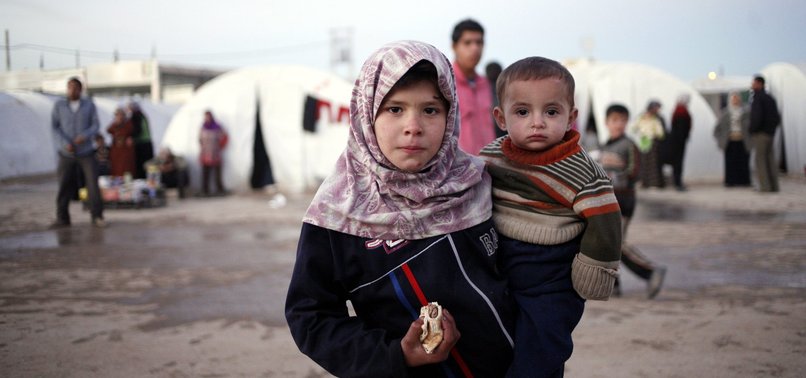 As the conflict in Syria entered its ninth year on Friday, children inside the war-weary country continue to bear the brunt of the conflict.
Many young Syrian children have never known peace. Still living in refugee camps, they have been deprived of their futures and continue to face exceptionally harsh living conditions.
Anadolu Agency spoke with three children in the Babusselam refugee camp in Syria's northern city of Azaz.
Set up by Turkey's Humanitarian Relief Foundation (IHH), the camp is currently home to some 15,000 refugees, including nearly 7,000 children.
Describing Syria as his "beloved homeland", 13-year-old Abd al-Rahman said it was "very hard to survive in a refugee camp as a child".
"My dream is to return to my home," he said. "I want to leave these camps and I want the bombs to end."
"I want to run freely on my own land," he added. "I want to play in freedom again."
Mohamed Ali, another 13-year-old camp resident, voiced a similar desire for freedom and peace.
"For me, Syria is everything," he said. "It's where I want to live in freedom."
He went on to voice hope of eventually receiving an education so that he might help his fellow Syrians.
"When I grow up, I want to be a doctor," he said. "I want to treat everyone who needs help -- no matter who they are or what they do."
Khaled, another young camp resident, lamented the "very hard conditions" faced by him and his friends at the camp.
"It's very cold here; there's mud everywhere," the 12-year-old said. "It's not clean; we can't play freely here."
"We want to return to our homes," he added.
Khaled said that, when he grows up, he wants "to help people affected by bombs".
"I want to be a firefighter and save people," he said.
According to the UN Children's Fund (UNICEF), some 5.6 million children still need humanitarian assistance in Syria, while 2.6 million remain internally displaced.
What's more, an estimated 20,000 Syrian children under five years old suffer from severe acute malnutrition, according to UNICEF.
In a recent statement, UNICEF described 2018 as the "deadliest year for children in Syria" -- an indication of the harrowing conditions still faced by children in the war-torn country.
Syria has been locked in a devastating conflict since early 2011, when the Assad regime cracked down on demonstrators with unexpected severity.
Since then, hundreds of thousands of people have been killed and more than 10 million displaced, according to UN figures.