Turkish woman becomes first foreign degree holder in Gaza
MIDDLE EAST
Anadolu Agency
Published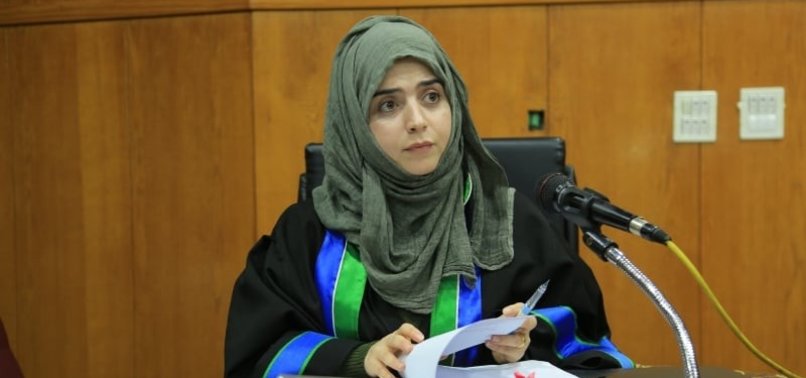 Young Turkish woman Rukiye Demir has become the first Turk and foreigner to have obtained a Master's degree from a Palestinian university.
Demir, 27, has got her degree in psychosocial health from the Islamic University in the Gaza Strip.
"My thesis is about self-awareness and adaptation strategies for women in professions dominated by males in Gaza," she told Anadolu Agency in an exclusive interview.
Demir says she has chosen Palestinian policewomen in Gaza as a sample for her study.
"Unlike their peers elsewhere, policewomen in Gaza are facing additional obstacles as Israeli assaults pose further dangers to them," she said.
"Policewoman in Gaza are highly willing and capable of adapting to their work," Demir said, going on to call on the Palestinian government to fulfill the needs of women in male-dominated fields.
"The government should provide the necessary tools and expenses to women all across Palestine, and particularly in Gaza," she said.
Hailing from Diyarbakır province in southeast Turkey, Demir arrived in Gaza in 2016 to obtain her Master's degree.
"I got married to a Palestinian," she said, adding that she is planning to stay in the strip.
"I have received several offers to work in Gaza, but I'm planning to start my own business to provide psychological services to the people in Gaza," Demir said.
The young Turkish woman is gradually getting to ability to speak Arabic. "I'm happy for being here in Gaza," Demir said.
"I look forward to obtaining my doctorate from one of Palestinian universities in Jerusalem when the city is liberated from the Israeli occupation."
Jerusalem remains at the heart of the Middle East conflict, with Palestinians hoping that East Jerusalem -- occupied by Israel since 1967 -- might eventually serve as the capital of an independent Palestinian state.