Turkish aid agency provides humanitarian aid in Yemen
MIDDLE EAST
Anadolu Agency
Published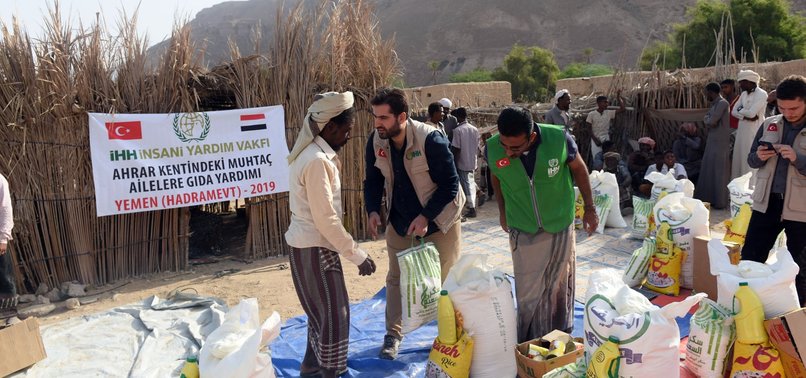 An Istanbul-based aid agency has delivered humanitarian aid to families in Yemen, the charity said on Wednesday.
According to a statement by the Humanitarian Relief Foundation (IHH), the aid group delivered blankets, food and personal care packages to families in 17 villages near eastern Marib, northern Al-Jawf province, central Al-Bayda province and Ahrar Valley.
The team also sacrified 200 sheep in Marib and Al-Jawf, the statement added.
"We were in Al-Jawf province of Yemen. We came across a refugee family of 10 during the distribution. The father and the son-in-law deceased during the war ... We promised to support the family regularly every month," IHH Vice President Fatih Yazici said as quoted in the statement.
IHH said more than 355,000 people benefited from the humanitarian aid.
The aid agency also builds medical centers and water supply networks, provides shelter and furniture in the war-torn country.
Impoverished Yemen has remained wracked by violence since 2014, when Shia Houthi rebels overran much of the country, including the capital Sanaa.
The conflict escalated in 2015 when Saudi Arabia and its Sunni-Arab allies launched a devastating air campaign in Yemen aimed at rolling back Houthi gains.
The ongoing violence has destroyed much of Yemen's infrastructure, including water and sanitation systems, prompting the UN to describe the situation as one of "the worst humanitarian disasters of modern times."