UN chief says 'essential' to avoid Idlib 'bloodbath'
MIDDLE EAST
Compiled from news agencies
Published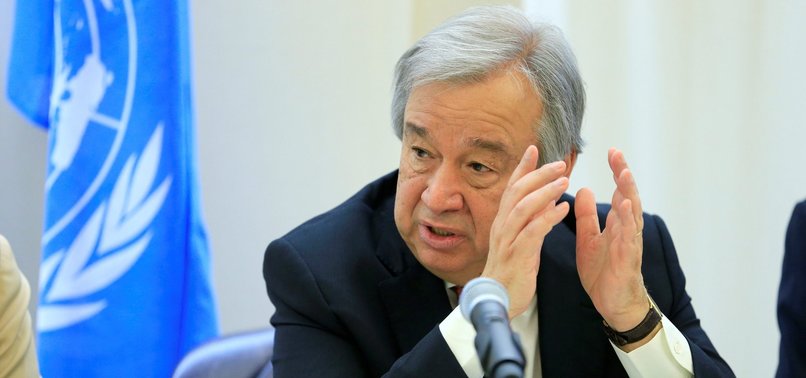 The United Nations chief said it was "absolutely essential" to stop a "bloodbath" in Syria's Idlib province, which has faced attacks from the regime and Russian forces in recent days.
UN Secretary General Antonio Guterres said Tuesday it is "absolutely essential" for a full-blown military offensive to be avoided in northwestern Syria's Idlib province.
"This would unleash a humanitarian nightmare unlike any seen in the blood-soaked Syrian conflict," Guterres told reporters at the UN's New York headquarters. "It must not be transformed into a blood bath."
The UN warned Monday at least 30,000 residents in Idlib have been displaced in the first nine days of September amid the Russian and regime air campaign there.
Guterres said half of the 2.9 million people living in Idlib have gone to the northwestern province after fleeing violence elsewhere in Syria.
"They include close to 1 million children. Their lives have been upended and they have nowhere to go," he said. "I understand that the present situation in Idlib is not sustainable and the presence of terrorist groups cannot be tolerated. But fighting terrorism does not absolve warring parties of their core obligations under international law."
Guterres made a particular appeal to Turkey, Iran and Russia -- known as the Astana guarantors. You should "spare no effort to find solutions that protect civilians. Preserve basic services and hospitals. Ensure full respect for international humanitarian law".
"I think it is absolutely essential [for] Russia, Iran, and Turkey, not to mention other countries directly or indirectly involved in this situation, to really come together at the present moment more than ever because Idlib is such a mess that, without a strong commitment of all these parties, we could be moving into a situation that would lead to the kind of massive battle that would have unpredictable consequences," he said.
The UN warned last week an offensive on Idlib would likely lead to the "worst humanitarian catastrophe of the 21st century."