'Don't let people die,' Erdoğan tells at Tehran summit
MIDDLE EAST
Anadolu Agency
Published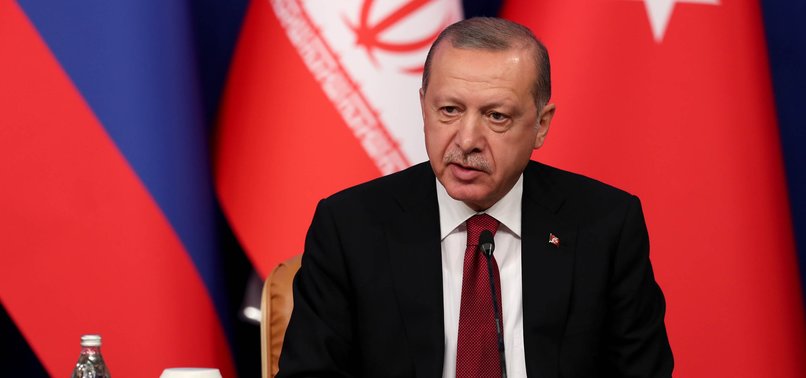 Speaking at a joint news conference with Russian President Vladimir Putin and Iran's Hassan Rouhani, Turkish President Recep Tayyip Erdoğan said it was important to end bombardments in Syria's Idlib and ensure cease-fire.
President Erdoğan on Friday called for end to deaths in Syria at the trilateral summit in the Iranian capital Tehran.
"If we can declare a cease-fire here, it will be one of the most important steps of the summit, and it will relieve the civilians," Erdoğan said at a joint news conference along with his Russian counterpart Vladimir Putin and Iran's Hassan Rouhani.
Erdoğan said Idlib is not only important for Syria's political future, but also "vital" for Turkey's national security and regional peace and stability.
"We never want Idlib to turn into a blood bath. We expect you to support us in our efforts," he added.
Turkey cannot leave Idlib to the mercy of Bashar al-Assad regime, he said.
"Turkey is resolute to maintain its presence in the region until Syria's political, geographical and social integrity is ensured," Erdoğan said.
The president called for common stance against any kind of terrorism in Syria, including PYD/YPG, that threatens Syria's territorial integrity.
Calling on the guarantor countries to not let a new wave of violence in Syria, Erdoğan said he hoped the results of trilateral summit will contribute to peace in the country.
Erdoğan added it is "vital" to protect civilians in the region, separate terrorist elements and ensure current status of Idlib.
"Turkey has 12 observation points in Idlib. Through this way, we take important responsibility for the continuation of tranquility in the region," he said.
'New catastrophes'
The president said Turkey has been making efforts to help end bloodshed in Syria since the beginning and that his country does not want any Syrian brother to even suffer a "nose bleed".
"We do not want people of Idlib, who have suffered a lot, to be exposed to new catastrophes," he added.
Erdoğan said representatives of three guarantor states will gather in Geneva with UN special envoy to Syria Stephan De Mistura in the upcoming days.
Noting that Turkey hosts 3.5 million refugees, he said: "Idlib's population is now 3.5 million. We do not have power and facilities to host another 3.5 million."
Erdoğan also voiced concern over the U.S. support of YPG/PKK, which is the Syrian branch of the PKK terrorist group."We are extremely disturbed that the U.S. continues to strengthen another terrorist organization in the region [even after] there was no Daesh threat and danger in the region."

'There can be no military solution in Syria'

After the summit, a joint statement said: "There could be no military solution to the Syrian conflict and it can only end through a negotiated political process."
The leaders expressed their "satisfaction with the achievements" of the Astana format since January 2017, in particular, the progress made in "reducing violence across the Syrian Arab Republic and contributing to peace, security, and stability in the country."
Iran, Turkey and Russia "emphasized strong and continued the commitment to the sovereignty, independence, unity and territorial integrity of Syria, as well as to the purposes and principles of the UN Charter and highlighted that they should be respected by all."
The leaders "rejected all attempts to create new realities on the ground under the pretext of combating terrorism," while expressing determination to stand against separatist agendas aimed at undermining the sovereignty and territorial integrity of Syria and national security of neighboring countries.
The joint statement said leaders highlighted the "need to create conditions for the safe and voluntary return of refugees and internally displaced persons (IDPs) to their original places of residence in Syria."
Russia, Iran, and Turkey also called for the United Nations and its humanitarian agencies to help Syria by providing additional humanitarian aid.