Palestinian PM urges Hamas to hand over Gaza security
MIDDLE EAST
Anadolu Agency
Published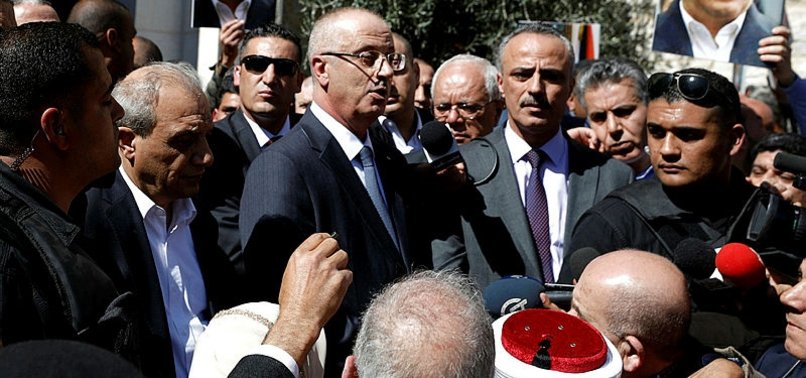 Palestinian Prime Minister Rami Hamdallah on Tuesday reiterated calls to Hamas to hand over responsibility for security in the Gaza Strip to the Ramallah-based Palestinian government.
Hamdallah made the appeal upon his return to Ramallah from the Hamas-run strip, where his convoy reportedly struck a roadside bomb without causing casualties.
"Today we were the target of an assassination attempt involving an explosive device buried two meters underground," Hamdallah said.
Six people were injured by the blast, he said, all of whom were now being treated at the Ramallah Medical Complex.
He went on to assert that the incident "confirms the need to have a single security authority in Gaza".
"We therefore ask Hamas to hand over the internal security file to the Ramallah-based Palestinian government," the prime minister said.
"The government cannot maintain an effective presence in Gaza in the absence of security," he added.
Gaza's Hamas-run Interior Ministry, for its part, confirmed that a blast had occurred in Beit Hanoun while Hamdallah's convoy had passed through the district.
Ministry spokesman Iyad al-Buzm said the explosion had not resulted in any casualties, adding that Gazan security forces were now looking into the causes of the blast.
Hamdallah, accompanied by Palestinian intelligence chief Majid Faraj, arrived in the blockaded strip on Tuesday for an hours-long visit.
The visit comes amid ongoing Egypt-sponsored talks between Hamas and rival Palestinian faction Fatah, from which Hamas seized control of Gaza in 2007.