Nearly 1,000 children killed in Syria last year
MIDDLE EAST
Anadolu Agency
Published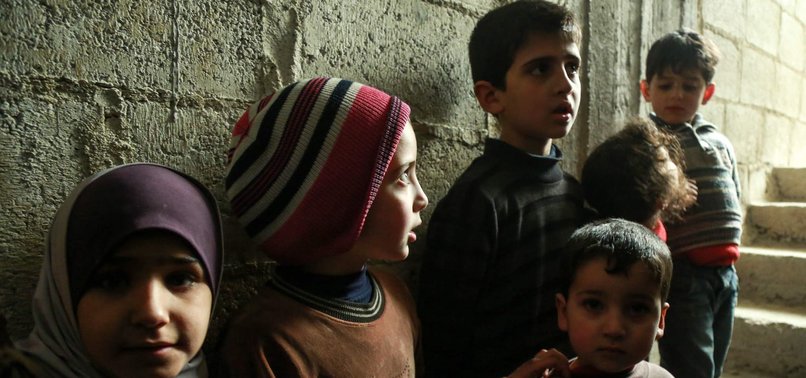 Nearly 1,000 children were killed and at least 961 children were recruited and used in the conflict in Syria last year, the UN Children Fund (UNICEF) said on Tuesday.
"Last year, the UN verified 910 deaths among children compared with 652 in 2016. Disproportionate attacks in densely populated areas kill a growing proportion of children who now account for one quarter of civilian deaths," UNICEF spokeswoman Marixie Mercado said in a news conference in Geneva.
At least 961 children were recruited and used in the conflict in 2017, nearly triple the number in 2015, Mercado said.
"It is important to note that these are verified numbers. The true figures are certainly much higher," she added.
According to UNICEF, there are now 5.3 million children overall who are in need. Some 2.8 million are internally displaced, 2.6 million children refugees. Over 1.7 million children are out of school, and an additional 1.3 million are at risk of dropping out.
Syrian regime has committed widespread human rights violations and violations of international humanitarian law on children, the UN warned on Tuesday.
"This heinous, shameful, yet preventable conflict has not only denied millions of children their fundamental human rights, it has robbed them of their very childhood," the UN's Deputy High Commissioner for Human Rights Kate Gilmore said on Tuesday at the 37th session of the UN Human Rights Council Panel on children in Syria.
Noting that 125,000 children have been trapped in Eastern Ghouta, Gilmore said: "The children of Eastern Ghouta, and elsewhere in Syria, are likely the victims of war crimes, and potentially crimes against humanity."
"The scale, scope and gravity of crimes committed against children are shocking. Widespread human rights violations and violations of international humanitarian law affecting or targeting children are being committed by the Syrian authorities. And perpetrated too by armed groups," she added.
The UN Assistant Secretary-General and Regional Humanitarian Coordinator for the Syria Crisis, Panos Moumtzis said 108 attacks, including 81 airstrikes, on hospitals and medical facilities last year have been verified.
"In recent months, cross-line assistance into hard-to-reach and besieged areas has almost totally collapsed due to the refusal of the Government of Syria to grant the necessary approval, with a few exceptions in the last few days," Moumtzis said.
Moumtzis warned that more people will die from starvation and diseases than from bombing and shelling if there was no implementation of a nationwide ceasefire in Syria for 30 days.
Syria has only just begun to emerge from a devastating conflict that began in early 2011 when the Bashar al-Assad regime cracked down on demonstrators with unexpected ferocity.