Syria crisis residue from Obama's broken promises, Erdoğan says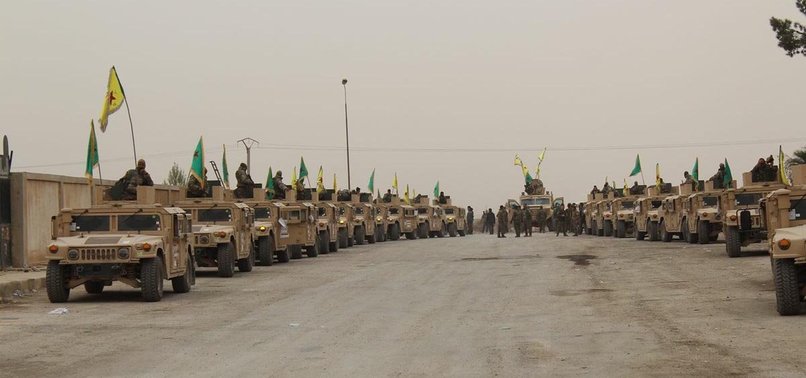 President Erdoğan pointed to wrong policies initiated by the Obama administration as reason for the disputes between the two NATO allies concerning Afrin as Ankara expects concrete steps from Washington to recover disrupted military cooperation
President Recep Tayyip Erdoğan said Wednesday that the instability and terrorism from the PKK terrorist organization's Syrian affiliate Democratic Union Party (PYD) and its People's Protection Units (YPG) militia are the results of former U.S. President Barack Obama's wrong policies, including supporting the YPG militarily. "During Mr. Obama's term, we also had Operation Olive Grove. Unfortunately, at that time, Obama did not keep promises. That operation had the aim of clearing terrorists from Manbij," Erdoğan said in a speech at the Presidential Complex in Ankara, referring to the YPG after it took control of the northern Syrian town in 2016.
"They said they would move them to east of the Euphrates and leave Manbij to its actual owners, because Manbij is 95 percent Arab. [The U.S.] did not keep its promises because the aim of their game was different. Their calculations were made to establish a terrorist state, which they were calling a Kurdish state. There are no Kurds there. You kick out the Arabs [from Manbij] and bring in terrorists," the president added. Washington, the prominent backer of the YPG in Syria, began to sing a different tune on the YPG after Ankara launched Operation Olive Branch, and said that they are ready to cooperate in Afrin.
U.S. Secretary of State Rex Tillerson said the U.S. is working with Turkey to stabilize the situation and address its security concerns.
Pentagon spokesman Adrian Rankine-Galloway said any YPG unit in northeastern Syria that moves to Afrin to join the fight against the Turkish military will no longer be partners of the coalition.
However, Ankara, which the U.S. deceived numerous times concerning the YPG, is wary of messages, and expects real steps to cooperate with its traditional ally.
Stopping arms deliveries and retrieving weapons already given to the YPG to fight against Daesh is the foremost condition from Ankara to carry out constructive cooperation in Syria.
Washington neglecting Ankara goes back to the Obama administration, as the former U.S. president adopted the strategy of arming the YPG. In addition to field training, the U.S. has so far delivered more than 4,500 truckloads and 2,000 aircraft loads of weapons and ammunition to the YPG, including armored vehicles, rocket launchers, anti-tank weapons, mortars, sniper rifles and night vision goggles.
The Pentagon had said it plans to retrieve heavy weapons from the Syrian Democratic Forces (SDF) once Daesh has been eliminated. However, it reneged on its promise to cease its support for the SDF and has substantially increased weapons and technology support to the group.
Turkey also expects the U.S. to keep its commitment as a NATO ally and maintain its military cooperation instead of siding with a group Ankara has designated as a terrorist organization.
A detailed plan to liberate Raqqa from Daesh that was prepared by the Turkish Armed Forces (TSK) was presented to the Pentagon and U.S. officials before the YPG-led offensive had started, but Washington brushed it aside.
Ankara has also insisted numerous times that an alternative can be found with local Arab tribes in the region instead of supporting and arming one terrorist group against another, referring to YPG's organic organizational links to the PKK, a group listed as a terrorist organization by the U.S. and the EU.
However, the U.S. insisted that supporting the YPG is the only option for defeating Daesh. Turkey also said the two countries can carry out a joint operation in Raqqa.
The YPG has been condemned by international human rights organizations for atrocities against Arabs, Turkmens and Kurds who are opposed to the group's ideology, including arbitrary arrests, forced relocation and recruitment to join their forces, including children.
Ankara expects a consistent policy on Syria, as ambiguous and contradictory remarks from U.S. officials have also become a matter of concern.
Michael Doran, a senior fellow at the Hudson Institute in Washington, and an official during George W. Bush's presidency, on Tuesday at a panel criticized U.S. attempts to cooperate with the YPG instead of Turkey, saying that claiming the PYD and PKK are different organizations is a vain effort.
He added that mediating between Syrian Kurds and Turkey is the only option for Washington to curb a possible increase in Moscow's influence in the region.
Turkish officials previously said different statements coming from the White House, Pentagon and U.S. Central Command (CENTCOM) as well as different institutions and departments in the U.S. regarding support for the SDF and the PYD have been causing the problem.
In November, U.S. President Donald Trump promised to halt weapons deliveries to the YPG in a phone call with Erdoğan. However, a couple days after Trump's promise, the Pentagon sent 100 more armored vehicles to YPG-controlled areas in northern Syria, and continued its deliveries.
Turkey fights YPG terrorists, not Kurds
Erdoğan also slammed those who he said misportrayed the operation as "against our Kurdish brothers while it is clear that this operation targets several terrorist organizations."
The president recalled the same accusations were levied against Turkey during Operation Euphrates Shield.
He said Turkey neutralized more than 3,000 Daesh and hundreds of PYD and YPG terrorists in Operation Euphrates Shield, adding that Turkey had enabled nearly hundreds of thousands of Syrians to return home.
"I wonder if those who attack Syria don't notice this?" Erdoğan said. "Our concern is the establishment of justice, not land."
"Turkey will first destroy the terrorists and, after Operation Olive Branch ends, enable 3.5 million Syrian refugees in Turkey to return to their homes safely," he asserted. "Turkey is trying to defeat an organization that posts photos of 13 to 15-year-old children and innocent old women with guns in their hands and forcing those who need a piece of bread to pay money."
Erdoğan said that the PYD had released all Daesh prisoners under the condition that they fight against the TSK and FSA in Afrin.
"These terrorist organizations are all the same. ... These are terrorist groups serving the same purpose in the same scenario with different roles," he said.
Turkey gears up diplomatic efforts on Afrin
Erdoğan discussed the operation and the latest developments in Syria with Russian President Vladimir Putin and French President Emmanuel Macron in two separate phone calls, diplomatic sources said Tuesday.
During the phone call with Macron, Erdoğan said that Turkey's counterterrorism operation in Afrin, Syria is being carried out within the framework of Turkey's rights based on international law, U.N. Security Council resolutions, its right to self-defense under the U.N. Charter and respect for Syria's territorial integrity.
The president also added that the Turkish military puts the utmost importance on not harming civilians, taking all necessary measures. The two leaders agreed to stay in close contact regarding the settlement of the ongoing Syrian war.
A few hours later, Erdoğan held another call with Putin in which the two leaders voiced their determination for the upcoming Syrian National Congress in Sochi to open a new chapter for a political solution in Syria.Foreign Minister Mevlüt Çavuşoğlu discussed the operation with U.S. Secretary of State Tillerson on the sidelines of the International Partnership against Impunity for the Use of Chemical Weapons on Tuesday hosted by the French Foreign Ministry in Paris.Çavuşoğlu announced later on Tuesday that Erdoğan and his Trump would speak over the phone on Wednesday. He said Trump requested the phone call.
"The time has also been decided," Çavuşoğlu added, without giving any further details.
Tillerson announced Monday that the U.S. hopes to work with Turkey to try to create a security zone in northwestern Syria to meet its legitimate security needs.
The United States has told Turkey, "Let us see if we can work with you to create the kind of security zone you might need," according to a reporter traveling with him to Paris.
"So we're in discussions with the Turks, and some of the forces on the ground as well, as to how we can stabilize this situation and meet Turkey's legitimate concerns for their security," Tillerson added.
U.S. proposes safe zone in northern Syria
Anadolu Agency quoted Foreign Minister Çavuşoğlu as saying during the two officials' meeting in Paris on Tuesday that U.S. Secretary of State Rex Tillerson made an offer to establish a 30-kilometer safe zone in Afrin.
Tillerson and Russian Foreign Minister Sergei Lavrov also spoke on the phone yesterday regarding the recent developments in northern Syria, as well as the latest details about peace efforts in Geneva and the Russian city of Sochi, according to a statement from the Russian Foreign Ministry quoted in Reuters.
U.S. State Department spokeswoman Heather Nauert said on Tuesday that Russia foments political tension between the two NATO allies by saying that the U.S. has been delivering weapons to the YPG.
"Russia's statements do not help the situation; also they are propaganda. It instigates relations of two NATO allies. But they won't achieve this," she said.