Medical records show paraplegic Palestinian shot in head during protest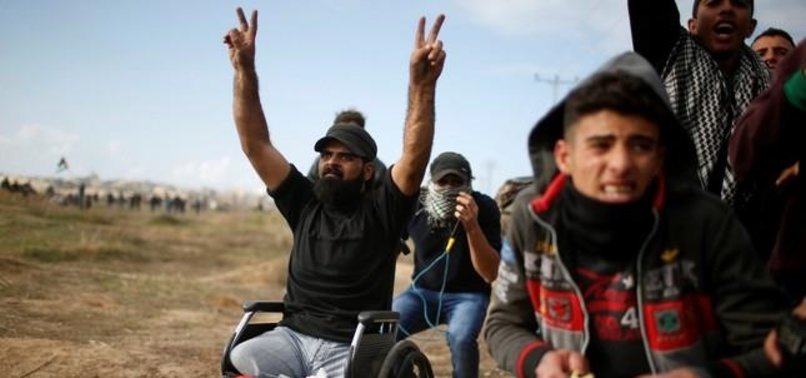 Palestinian medical records in the Gaza Strip show that a paraplegic man who died during a violent protest along the Gaza border earlier this month was killed by a bullet that struck him in the head.
The records, obtained by The Associated Press on Thursday, shed new light on a case that has become a rallying cry among Palestinians since President Donald Trump recognized Jerusalem as Israel's capital.
Ibrahim Abu Thraya, who lost his legs in a separate incident several years ago, was killed on Dec. 15 in clashes that broke out along the Israeli border. Witnesses say Abu Thraya was shot in the head by an Israeli sniper — a claim the military has denied.
The medical records, which include a hospital report and a death certificate, say that Abu Thraya, 29, was struck by a bullet above his left eye and died from bleeding in the brain. The same findings were detailed in a report by the Palestinian Red Crescent ambulance service reviewed by the AP.
The reports did not specify who fired the bullet or what caliber it was.
While the Dec. 15 clash turned violent, with protesters hurling stones, firebombs and burning tires at the border fence, witnesses have said there was no gunfire from the Palestinian side.
The protest came amid a wave of violence that has erupted in the Palestinian territories since Trump's Jerusalem declaration. Twelve people have died so far, almost all in Gaza.
A picture of the 29-year-old Abu Thraya on a wheelchair, raising the Palestinian flag and flashing a "victory" sign, has become ubiquitous in Gaza. He has emerged as a symbol of resistance to Trump's Jerusalem move, which the Palestinians largely see as siding with Israel.
An Israeli military investigation after the shooting said Abu Thraya had participated in an "extremely violent" protest. The investigation, which the military closed after one day, said that live fire was employed against the main instigators but was not directed at Abu Thraya and that it was impossible to determine the cause of his death.
The investigation cleared troops of any wrongdoing and said it found no "moral or professional failures" in the soldiers' conduct. The military says it has repeatedly requested information about Abu Thraya's injuries through official channels and would examine any information provided.
The AP showed the report from Gaza's Shifa hospital and the death certificate to the army.
In a statement, the military said the report "was not known" to it. "If it will be received through the relevant professional channels, it will be evaluated appropriately," it said.
Alyona Synenko, spokeswoman for the International Committee of the Red Cross, said the organization has an "ongoing dialogue" with authorities in Israel and Gaza. She said all talks are confidential and that she could not elaborate.
Abu Thraya was a well-known figure in Gaza.