Turkish troops begin reconnaissance mission in Syria
MIDDLE EAST
Anadolu Agency
Published
Turkish troops have begun reconnaissance activities in Syria's Idlib province as part of an international agreement to establish de-escalation zones, the military said Monday.
The operation in the northwestern region, which borders Turkey's Hatay province, was launched on Sunday under a deal agreed with Russia and Iran during the Astana peace talks.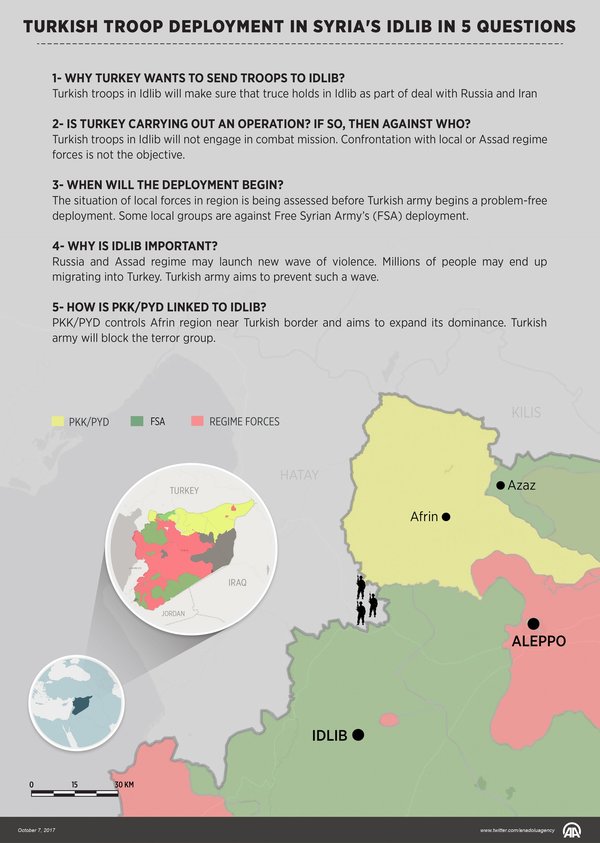 Iranian and Russian troops are also participating in an effort to reduce tensions in Syria.
The agreement aims to ensure the continuation of a cease-fire agreed last December between the three guarantor nations.
According to the statement on the Turkish Armed Forces' website, the de-escalation zones were created to "enhance effectiveness of the cease-fire regime, end conflicts, bring humanitarian aid to those in need, establish the necessary conditions for the return of those displaced".
The reconnaissance mission is being conducted within the rules of engagement agreed between the guarantor countries.
The establishment of de-escalation zones was agreed in May between Turkey, which backs groups opposed to Syrian leader Bashar al-Assad's regime, and Russia and Iran, who support the regime.
Turkey's latest military intervention follows Operation Euphrates Shield, which saw the Free Syrian Army, backed by Turkish forces, clear Daesh from territory in northern Syria between August 2016 and March.