Turkish student invents gloves that translate sign language into written text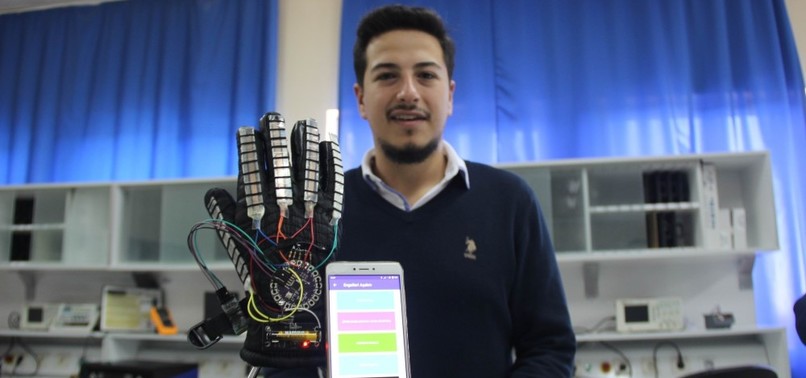 Life is not easy for disabled individuals; it is sometimes hard for them to communicate with others since not many people know sign language. But a student from Konya intends to change this with a domestically produced sign language gloves
A mobile application and gloves were designed by Burak Yılmaz, a student of computer engineering at Konya's Selçuk University, has developed a pair of gloves and a mobile application that will help sight, hearing and speech-impaired individuals with their daily lives and work.
The wearable was designed as part of a project, titled "Engelleri Aşalım" ("Let's Overcome Obstacles"). It claimed the first prize in the Undergraduate Students Project Competition, organized by the Scientist Support Program Department (BİDEB) of the Scientific and Technological Research Council of Turkey (TÜBİTAK).
The project's consultancy was carried out by Professor Murat Köklü from the Computer Science and Engineering department, who worked as the project consultant. The smart wearables will help people with disabilities by communicating and even complete transactions at banks and state institutions.
Undergraduate inspired by disabled people
Yılmaz said that he came up with the idea of the project after witnessing the difficulties people with disabilities have at banks and offices. "The name of my project helps help sight, hearing and speech-impaired individuals communicate easily with other people. It will also increase their opportunities for employment because it makes communication easier. I wanted to help them do everything, in places like banks, on their own. After I saw an individual having trouble at the bank, I wanted to solve that problem and I came up with this project."
He claims that the mobile app he created along with the gloves will make life easier for disabled people. "The app turns speech into written language while it also helps disabled people as it translates sign language into a written language which helps disabled individuals to communicate with others easily. Visually impaired individuals will also be able to use this app at banks, notary or public offices," Yılmaz added.
The glove which enables sign language to be translated into written language is the key to Yılmaz's innovation. The glove is 100 percent, including the "five flex" sensors that are used in the glove. The flex sensors detect the movements and positions of the fingers which are keys in sign language. The glove also enables its users to connect directly to their mobile phones which means they do not need to hold the phone to talk just bring the glove closer to their ears.
"With these devices, the disabled will not have any communication problems and I believe they will regain their confidence in their social skills," Yılmaz added.
He said that they are planning to start mass production soon. The project is also a finalist at the Social Enterprise Awards at Youth Summit Turkey, which is scheduled to take place on Nov. 3.