New Delhi's air quality deteriorates to 'unhealthy'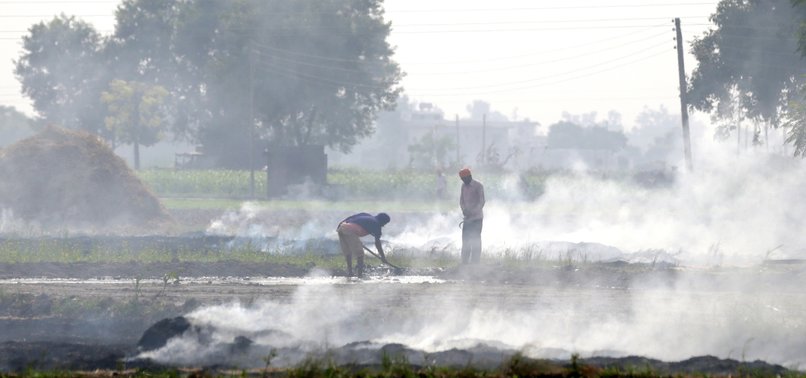 The air quality in New Delhi plummeted to an "unhealthy" level on Saturday as farmers burned post-harvest roots and plant debris on their fields outside the capital.
The city's already poor air quality worsens every year as farmers in neighbouring Punjab and Haryana states burn crop residue in October and November to prepare for the next growing season.
The early morning sun was hidden in a haze and air quality was recorded as "very poor" at several locations monitored by the Ministry of Earth Sciences.
The levels of suspended particles smaller than 2.5 micrometres - a size considered extremely fine that can penetrate and damage lung tissue - were recorded at levels up to 12 times the limit deemed safe by the World Health Organization.
Air pollution control strategist Parthaa Bosu wrote on Twitter that pollution levels were eight times above the city's standard level and cautioned residents to stay indoors, avoid exercise and monitor children and senior. People on their morning walks could be seen wearing masks
By late afternoon, the Air Quality Index in parts of eastern Delhi shot up to the "very severe" category.
Heart Care Foundation, a non-profit working in the area of health, has called for postponing Delhi's half marathon, scheduled for October 21, as the poor air quality posed a risk to runners.
Fines were imposed on 12 farmers on Friday due to crop residue burning, a statement from the Haryana State Pollution Control Board said.
Haryana has banned the burning of crop reside but farmers continue the practice as it is the cheapest way of clearing their fields. The entire state was being monitored via satellite imagery to spot and control burning.
New Delhi, a city with a population of 20 million, has been ranked among the worst-polluted cities in the world in recent years. Vehicular and industry emissions, construction dust and rubbish burning are all cited in addition to crop burning as reasons for high levels of pollution.
The government has taken up some initiatives to combat the worsening air quality, but none of them have proved very successful.
The Delhi government has said it plans to introduce giant air purifiers this season, which scientists like Anumita Roychowdhury of the Delhi-based think tank Centre for Science and Environment have dismissed as an ineffective solution.
The Indian Meteorological Department is scheduled to launch an air pollution prediction system in Delhi on Monday. The Air Quality Early Warning System has in-built web dissemination tolls that would inform the public and enforcement agencies of episodic high pollution events in advance, Indian Meteorological Department chief KJ Ramesh said.
"It is hoped that this will give them adequate time to take precautionary measures," Ramesh said.