The greatest Ottoman victory over the British: Kûtulamâre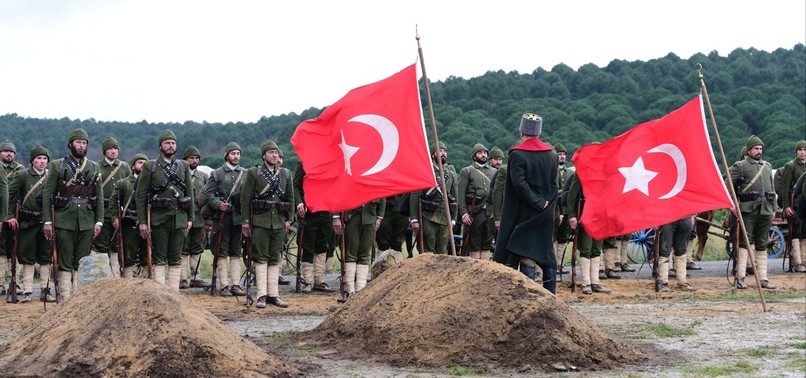 The largest victory in the Dardanelles War was at Kûtulamâre where the Turks beat the British Army. This legendary story was introduced to Turkish audiences in the series 'Mehmetçik Kûtulamâre' on TRT. The largest movie set in Turkey was set up for this series, and the cities of Baghdad and Kut were built. We visited the set and talked to the actors
World War I, the Iraqi Front: The Ottoman Empire carried out an important siege against the British around Kûtulamâre. They beat the British in this region between the Tigris and Euphrates rivers, which had strategic importance and captured thousands of soldiers and generals. The second biggest victory after the Dardanelles War against the British is now celebrated in a TV series on TRT1, "Mehmetçik Kûtulamâre." The gala for the project took place at Beştepe National Congress and Culture Center with the attendance of President Recep Tayyip Erdoğan and his wife Emine Erdoğan. The story of this glorious victory was received with great interest by the audience.
The largest movie set in Turkey
We headed to the set established in the Riva district of Istanbul where this military drama about the Kûtulamâre Victory was shot. This is the largest movie/series set in Turkey. The Tigris River and Kut city are on one side, and the city of Baghdad in the 1900s is on the other. There are military headquarters, barracks, inns, bazaars and trenches of the Ottomans. When you walk through military headquarters and walk up the stairs, you reach the headquarters room of Osmancık Barricade's commander, Süleyman Askeri, who also is the leader of a secret organization, Teşkilat-ı Mahsusa (Special Organization) within the Party of Union and Progress. The room has been built similar to the original with tables, chairs, library, maps, telephone and a gas lamp. Kaan Taşaner, who plays Süleyman Askeri, entered the room in a commander costume and sat at his desk.
3,000 tons of desert sand transferred
Behind military headquarters is the bazaar of Baghdad. Architectural structures are plastered with mud, 3,000 tons of desert sand has been brought from Antalya, and palm trees were planted to create the mood of the city. Right on the opposite side lays the city of Kut with 60 streets. It contains a mansion where the invading British soldiers stayed, Kut Castle, bazaar, the mosque, Islamic monastery and houses of the period. The Tigris River is not forgotten either. Houses contain real life areas. Another attraction point of the set, which was built in six months, is Şile Sahilköy, where İsmail Ege Şaşmaz who played Mehmet and İlker Aksum who played British agent Cox stay. It's almost like the middle of a desert. The director of the series, Mustafa Şevki Doğan, said, "There was a desert storm just now. It was pretty tiring and hard for us, but we worked like soldiers." While the team kept working, we had pleasant conversations with the actors.
"If the Kûtulamâre Victory did not exist, we wouldn't have been able to win the War of Independence. Our heroes went there to spoil the game of large states, and they made history. 70 percent of the characters in the series are from real life. From the doctor to the student, they left everything behind to work to save their country. Enver Pasha is a great character, and then there are the high-ranking officers. There are parts of the lives of Süleyman Askeri, Lieutenant Cemil and Mehmets; there are the memories of those who were willing to become martyrs. We became kind of soldiers on the set to reflect these onto the screen. Today, we are in Afrin to spoil the games of large states," director Doğan said.
We talked to actor Kaan Taşaner, who played the commander of Osmancık Battalion and Süleyman Askeri of Teşkilat-ı Mahsusa; İlker Aksum, who played British spy Cox and İsmail Ege Şaşmaz, who portrayed Mehmed, a soldier in Osmancık Battalion.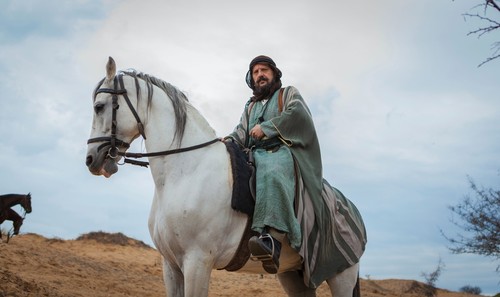 İlker Aksum plays the British spy Cox.

DAILY SABAH: What was your reaction to the offer to be involved in this series?
İLKER AKSUM: Above all, I am a son of a soldier. My father was a war pilot. I have always been interested in the military. Not many people know what it means to be a martyr. But when your dad is a pilot, we saw all kinds of martyrdom. I didn't know about Kûtulamâre. But once I read and researched it, I realized that it was a great victory, which intrigued and excited me. What drew my attention the most was the character being a military person.
D.S: So you identified with the character as your dad was a pilot then.
AKSUM: Exactly. It became a character I identified with, yet I play a British agent. People usually know Lawrence of Arabia. British Agent Cox is not that typical, but he is one of the people who drew the map of the Middle East; he mingled with their affairs a great deal. He united tribes against the Ottomans and started a great war.
D.S: What is it like to play a British agent?
AKSUM: Cox is a historical character. He was taken from an orphanage and trained by the British Intelligence Agency. He is a great soldier with war training. He can speak Arabic and Ottoman Turkish like his own mother tongue. Therefore, I had to work for this role. First, I learned how to ride a horse, and we trained with real guns, which was scary. I had to be ready for the role physically.
D.S: Are there any similarities with today's Middle East and the Middle East of Ottoman times?
AKSUM: When you look at history, there are similarities. The actors are all the same. We are not fighting against the same actors in Afrin. We rightfully want a safe buffer zone around our borders, while the U.S. insists on building everything itself. But we say, "No. One minute." We also said "One minute" 100 years ago. We will beat them again. We have one of the most powerful armies in the world. I support Operation Olive Branch. If they asked me to join tomorrow, I would. We have some of the best weapons in the world. We are one of the top five countries with our navy. The Afrin Operation can only be carried out by a few in the world, and we are one of them.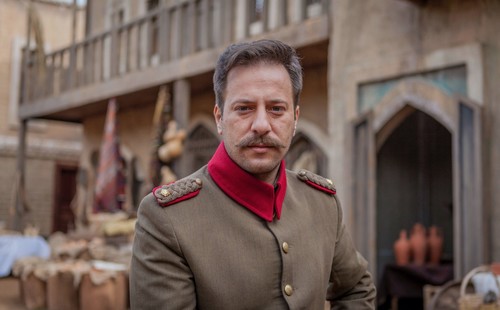 Kaan Taşaner plays the commander of the Osmancık battalion and Süleyman Askeri of Teşkilat-ı Mahsusa.

DAILY SABAH: Was it hard to play the leader of Teşkilat-ı Mahsusa, the commander of Osmancık Battalion, Süleyman Askeri? What kind of a person is he according to you?
KAAN TAŞANER: I built a roadmap out of all the memoirs and his own writings about Süleyman Askeri. The whole performative language and emotional behavior are consequently mine, but Süleyman Askeri is a very smart, ambitious, always pushing the limits and tempting fate. Yet, he is also someone you might enjoy chatting to and is fun. We never got to learn the stories of these soldiers in history; maybe some of them played the bağlama well or told jokes.
D.S: Your nemesis in the series is Cox. How do your minds compete? How is it to tackle a spy?
TAŞANER: It is a very tiring process to deal with mind games all the time. Yes, the spy mechanism is one of the oldest professions in the world. Spies usually know the geography, language and culture of the countries they travel to. They can easily go shopping in the local bazaar. People usually do not understand that they are spies. It's a dangerous and exciting experience. Throughout history, strategies regarding the Middle East were drawn up by spies. When you play someone like Süleyman Askeri, I understand that Cox is using similar strategies for his own ideals. They are equals, and Cox and Süleyman Askeri sit at the same table in the strategic war. Yet, Cox lacks faith. The British lack faith, which gives Ottomans courage.
D.S: Do people need such historical series? What kind of awareness do you think this series will create?
TAŞANER: We couldn't get information about the Victory of Kûtulamâre for years; it was prevented, and this project will introduce this victory to the nation.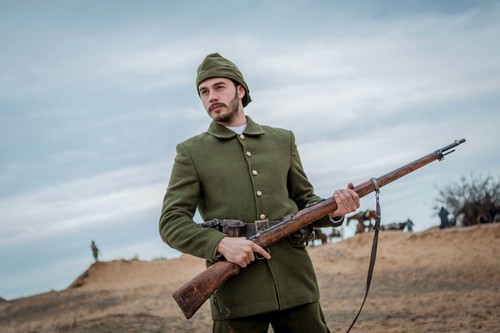 İsmail Ege Şaşmaz plays Mehmed, a soldier in the Osmancık battalion. (Photos by Hatice Çınar)

DAILY SABAH: Mehmet is a character that is willing to do whatever it takes for his country. How did you prepare for the role?
İ. EGE ŞAŞMAZ: We read and still read books about this great history. As some of the history about those years was hidden, we worked with special historians and received special training. We learned how to shoot while riding a horse, how to ride a horse and how to jump on horseback. As my grandfather is a coachman, I had a little training about horse riding in my childhood. But this time, we learned it professionally. We learned how to use guns in training. In addition, I'm a paraglider. I like action.
D.S: Did you act like a soldier in shooting the series?
ŞAŞMAZ: Yes. I attended commando trainings for six months, and we had a retired military officer guiding us. I can use any kind of weapon right now because we used real guns for training.