Healing waters in Turkey's Izmir draw a great number of visitors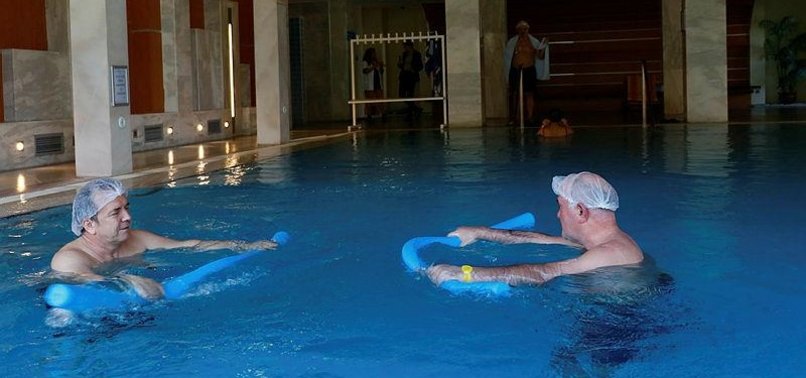 Turkey's western Izmir province, which hosts many local and international visitors with its large number of seaside hotels in the summer, is also drawing attention due to its thermal waters.
Particularly its Çesme district -- a popular resort town -- provides relief for those who are suffering from different types of diseases with its thermal water from the sea.
The district's thermal history dates backs to 3,000 BC. It was also an important thermal destination during the Ottoman era, especially in the 18th and 19th centuries.
Luxury hotels in Çesme bring thermal water from the sea, which is filled with rich minerals such as calcium, magnesium-hydrogen-carbonates and sulfates.
According to hotel officials, some of the health problems the thermal water can provide relief to are post-traumatic treatments, rheumatic diseases and dermatological issues.
Speaking to Anadolu Agency, Ilgaz Nacakoğlu, manager of Thermal and Thalasso Cure Center of Altınyunus Resort and Thermal Hotel said they use thermal water at their facilities coming from the sea in the district.
He said so far he had received a positive response at thermal hotels in the district.
"The target of the 3,500-bed 10 luxury thermal hotels is to reach 100 percent occupancy rate during this year, just like previous years."
The high salt concentration in the thermal water is important for healing musculoskeletal disorders, Nacakoğlu said, adding iodine also prevents infectious diseases.
Balcova Thermal Hotel -- which is affiliated with the Izmir Governorship -- is another well-known hotel in the Balçova district, which hosts many visitors from northern European countries and Russia.
The thermal hotel is known for its treatments in the district. At the center, special therapy and treatment sessions are held for neurological and orthopedic diseases as well as for traumas occurred after traffic and sports accidents and injuries.
Employees, who have international experiences are behind the success of the hotel, which has a 408-bed capacity, says Ergün Erdoğan, Board Member of Balçova Thermal Hotel.
Olcay Derya Gülören, physiotherapist of Balçova Thermal Hotel, said that the facilities offer a wide range of treatment options, underlining the importance of integrating physiotherapy and rehabilitation services.
There are a large number of guests, who come to the facility on wheel chairs and leave the facility walking following the treatment program, she said.
National team players and other professional sports people also show interest in the hotel, she added.