Visitors throng eastern Turkey's trendy ski resorts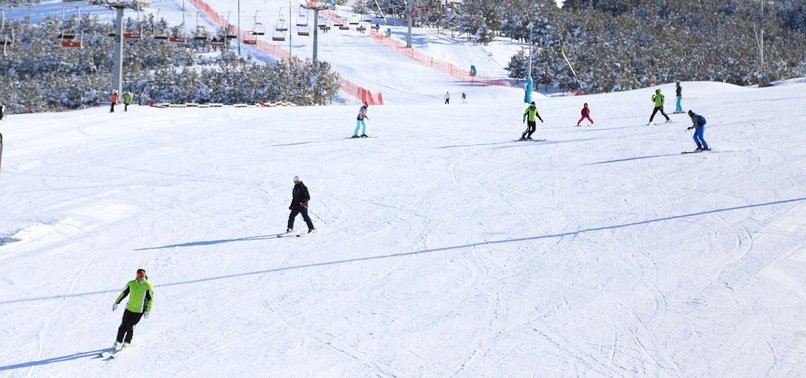 The Palandöken Ski Center in eastern Erzurum province continues to be a hot spot for skiing fans following heavy snowfall in the area.
The center has seen over 30 centimeters of snow due to heavy snowfall, attracting large number of tourists during and after the New Year.
Families from young to elderly, local to foreign visitors, are enjoying the long winter season by tobogganing, skiing and snowboarding.
Sway Hotel Deputy Manager Ömer Akça told Anadolu Agency his hotel was 100 percent full.
Palandöken is Turkey's easiest accessible ski resort, located approximately 15 kilometers (9 miles) from Erzurum Airport.
Palandöken is an hour from capital Ankara via airplane and nearly an-hour-and-a-half from Istanbul and Izmir, Akca said.
"It takes a maximum of 15 minutes to get to the ski resort from Erzurum airport. This is not only a privilege for Palandöken but also for Erzurum," he said.
He said Palandöken also has one of the longest natural ski tracks in the world.
"One of the most significant characteristics of Palandöken is that it is Turkey's only ski resort that guarantees snow. Both with investments and artificial snow system made by the government in 2011 and by the private sector, Palandöken provides ski and snow guarantee for 120 days starting from Dec. 1 to March 30," he said.
Palandöken provides opportunity for night skiing via its world-standard lighting system and many new facilities like ski jumping ramps and shooting ramps for the biathlon, he said.
He added security and safety is a priority at the center; resort is monitored 24/7 via live security cameras.
Moreover, the popular ski resort is only two kilometers (1.2 miles) away from the city center.
"Majority of our guests at the hotel are from Istanbul, Ankara, Izmir and the Black Sea region [northern Turkey]. Majority of our foreign guests are from Russia, Azerbaijan and Iran but our ski center is completely filled by our domestic ski-lovers."
Halit Tuluoğlu, a guest at the resort from Germany, told Anadolu Agency they chose to spend their New Year in Palandöken due to its tracks and its weather.