39th Vodafone Istanbul Marathon kicks off
The only marathon run over two continents will be held for children this year with the motto, 'We are running for the future of our children.' A total of 73 elite athletes, 24 from Turkey, will participate
Thousands of runners will throng Istanbul on Sunday to run the 39th Istanbul Marathon, the world's only cross-continental race. The slogan this year is: We are running for the future of our children.
Some 73 elite athletes, including 24 from Turkey, will participate in the IAAF Gold Label Road Race. Sponsored by Vodafone for the sixth time, the event is expected to break the attendance and racetrack records.
In the men's category, Paul Lonyangata of Kenya, who clocked his best at 2:06:10 in April this year, will be the favorite. He will be closely followed by Kenya's Jacob Kendagor and Ezekiel Kemboi Omullo and Ethiopian athlete Bazu Worku.
Among the favorites, Kendagor achieved his personal best of 2:07:33 at the Seoul Marathon this March. Worku, on the other hand, clocked his best of 2:05:25 in Berlin back in 2010 and clocked 2:08:48 in Prague this year. Kenya's Ezekiel Kemboi Omullo clocked his best of 2:08:50 in Warsaw last year.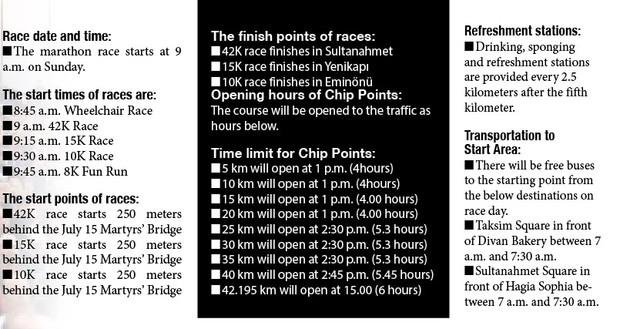 Six times in the Golden League and 10 times in the Diamond League in the 3,000-meter steeplechase champion and 2004 Athens Olympics bronze medalist, Paul Koech of Kenya will also participate in the Istanbul Marathon, only second in his career. The 1981-born athlete completed the Rotterdam Marathon in 2:12:02 in April, and now aims to grab a podium place in Istanbul.
In the women's category, current champion Kenya's Agnes Jeruto Barsosio, who came second in this year's Paris Marathon, is the clear favorite. She clocked her personal best of 2:20:59 at the event.
Her closest competitors are Sally Barsosio, Visiline Jepkesho of Kenya and Ethiopian athletes Letebrhan Hayley and Meseret Mengistu.
Jepkesho, clocked her career best of 2:21:37 in the 2017 Paris Marathon while Hayley achieved her best of 2:25:01 second in the Dongying Marathon. Mengistu, on the other hand, clocked her best in Paris at 2:23:26.