1,500 flights cancelled during two-day Lufthansa strike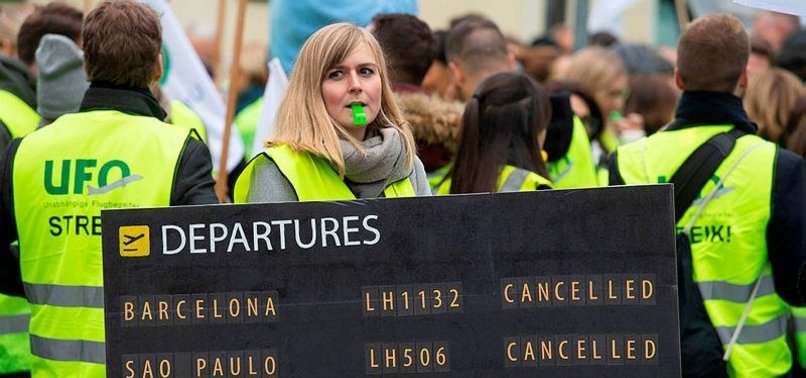 German carrier Lufthansa confirmed on Friday that two consecutive days of strikes by cabin crew had forced it to cancel 1,500 flights, affecting a total of 200,000 people.
The airline said flights would take place "largely as planned" on Saturday, but that passengers should expect "some cancellations and delays" as a result of the 48-hour strike.
Despite the cancellations, the terminals of Germany's largest airport were quiet on Friday as customers had been informed early about the cancellations and many had rebooked their flights, a Lufthansa spokesman said.
In Munich, more than 200 flights were cancelled, according to Lufthansa. The desks and terminals at Munich airport were empty, said a spokeswoman for Munich airport, adding, "there aren't any long queues."
The airline axed around 700 flights on Thursday, the first day of the strike.
The Ufo union, which called the strike in a dispute over pay and conditions, will hold talks with Lufthansa over the weekend as the airline bids to prevent further industrial action.
But Ufo spokesman Nicoley Baublies told dpa: "Either we have a solution or we will announce that there must be a massive expansion to the strikes. If it's not enough then more companies have to be hit by the strike and then it has to be longer."
A decision will be announced by the union on Monday with Lufthansa's four German subsidiaries - Germanwings, Eurowings Germany, Lufthansa City Line and SunExpress Germany - at risk of seeing strike action.
So far only the core Lufthansa brand has been affected.
Baublies though said he hoped that progress could be made this weekend to avoid further action.
Although the current strike will have ended by Saturday, some cancellations are still likely as planes and crew members are not in the right places.
Fraport, the operator of Frankfurt Airport, expects congestion as many travellers have rebooked their flights.
The Ufo cabin personnel stopped work on Thursday to try to force Lufthansa to pay higher expenses and allowances as well as make other work improvements.
Ufo and Lufthansa, which has 21,000 flight attendants, had agreed that the weekend negotiations would be confidential.