Turkey's exports rise to $13.15 billion in August
ECONOMY
Compiled from wire services
Published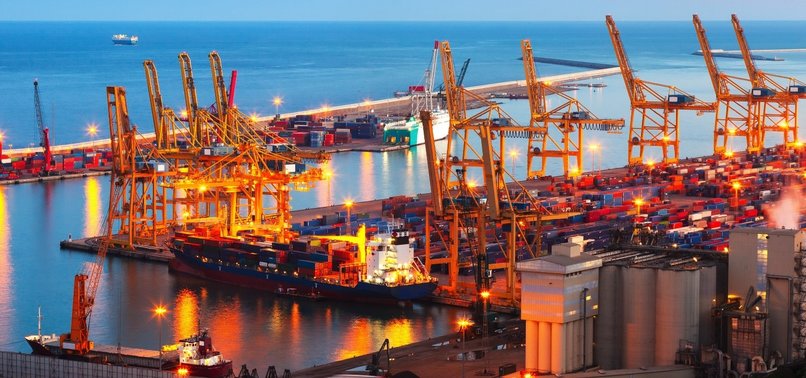 The upward trend in Turkish exports continued in August, rising 1.69% year-on-year to reach $13.15 billion, Trade Minister Ruhsar Pekcan announced Wednesday.
Turkey's exports were worth $13.2 billion in August, up 1.7% from a year earlier, the country's trade minister said Wednesday.
Ruhsar Pekcan said the country's imports inched down 0.27% on a yearly basis to $15.5 billion in the month.
Turkey last month saw a nearly 10% annual decline in the foreign trade deficit to $2.4 billion, she added.
The foreign trade volume stood at $28.7 billion, up 0.62%, during the same period.


In calculating foreign trade statistics, two different methods are used -- the special and the general trade system.
Calculations based on the special trade system do not include free zones and customs warehouses.
The general trade system is a wider concept, including customs warehouses, all types of free zones, free circulation areas, and premises for inward processing.
Through the end of every month, Turkey's statistical authority TurkStat releases the final foreign trade figures for the previous month, as the Trade Ministry announces preliminary general trade system data in the first week of every month.
The exports-to-imports coverage ratio last month was around 85%.
Ismail Gulle, head of the Turkish Exporters' Assembly, also said the automotive industry continues to be Turkey's leading export sector with exports worth $1.7 billion last month, followed by chemical products with $1.63 billion and ready-made garments and apparel with $1.4 billion.
The defense and aviation sector enjoyed the highest annual rise with 30.2%, Gulle added.
Eight-month figures
From January to August, Turkish exports rose 3% from the same period last year, hitting $117.3 billion.
The country's imports amounted to $137 billion in the first eight months of this year, an annual rise of 17%.
As a result, Turkey's foreign trade balance saw significant improvement, shrinking 61% during the same period.