Turkey, Indonesia eye '$10B bilateral trade volume'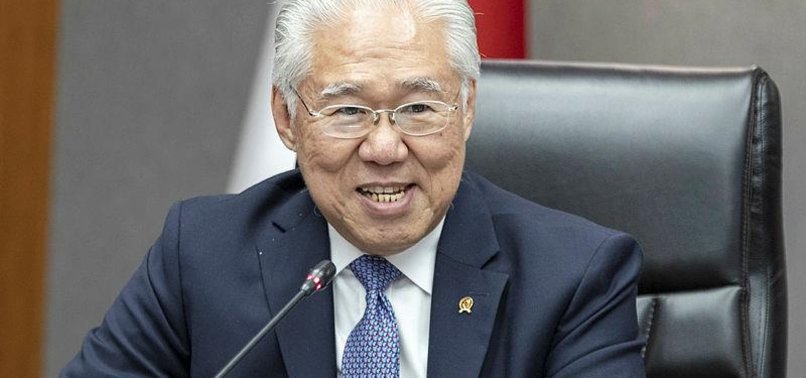 Turkey and Indonesia have set a target to achieve $10 billion bilateral trade volume "soon", Indonesia's Trade Minister Enggartiasto Lukita said on Thursday.
"During the G20 summit, Turkish and Indonesian presidents agreed that our bilateral trade should increase up to $10 billion as soon as possible," Lukita told Anadolu Agency on the sidelines of a business forum in Istanbul.
Turkish President Recep Tayyip Erdoğan had held a bilateral meeting with his Indonesian counterpart Joko Widodo on the sidelines of G20 summit in Japan in June.
Lukita said the current bilateral trade stands at $1.8 billion.
He said Erdoğan is expected to visit Indonesia in first quarter of 2020 to sign a trade agreement called Comprehensive Economic Partnership Agreement (CEPA).
"President Erdoğan and our president have asked us [ministers from two countries] to conclude CEPA by the end of this year," he said.
"With that agreement we believe our bilateral trade will increase," the Indonesian minister said.
Lukita said that the bilateral trade between the two countries "was good". "Our relations with Turkey date back to 12th century […]," he added.
After establishing diplomatic relations in modern day history, Turkey and Indonesia opened embassies in each other's country in 1950s.
Praising boom in Turkish defense industry, Lukita said that the two countries have good opportunity to raise the trade volume.
"Turkey needs [Indonesian] palm oil, rubber, paper and Indonesia can increase [exports to Turkey]," he said.
"We also need your [Turkish] defense industry and technology," he added.
"Why do we need to buy from other countries, why don't we do it bilaterally?" the minister asked, adding that Turkey remains one of the defense sources for Indonesia.
- MORE INDONESIANS VISIT TURKEY
Complementing Turkey for opening a new airport in Istanbul, Lukita said that the Istanbul Airport was "very impressive".
"Most of the Indonesian people are interested to come to Istanbul and [that is why] we have increased tourism with Turkey and Turkish Airlines now [fly more] to Indonesia," he said.
Referring to Turkey's hosting of business meetings, he said: "It reflects interests of the business sector from both countries… More Turkish companies are interested in Indonesia."
The Indonesian minister suggested Turkey to join Bank Shariah of Indonesia. "It is growing very well which is another opportunity for Turkey," he added.