Turkish Central Bank lowers inflation forecasts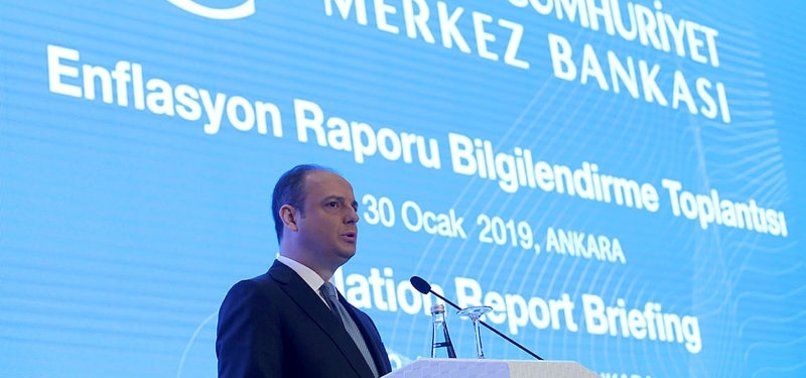 The Central Bank of the Republic of Turkey (CBRT) on Wednesday said the inflation rate is expected to be 14.6 percent at 2019-end, down from the previous 15.2 percent.
Turkey's Central Bank on Wednesday revised its inflation forecast for the country's economy downward for 2019 and the next year.
The bank forecast Turkey's year-end inflation rate this year to drop to 14.6 percent from 15.2 percent in its previous report, Central Bank Governor Murat Çetinkaya said in the bank's first quarterly inflation report in 2019.
The governor said the rate will fluctuate between 11.9 percent and 17.3 percent through the end of this year, with a 70 percent probability.
"Increased contributions from demand conditions to disinflation, deceleration in the underlying trend of inflation, as well as the significant decrease in oil and import prices assumptions together played an important role in the downward revision in inflation forecasts for 2019," he said.
"We projected the inflation rate to be 14.6 percent at end-2019, then to drop to 8.2 percent [compared to 9.3 in the previous report] at the end of 2020, and to be 5.4 percent in 2021."
According to the Turkish Statistical Institute, in December 2018 Turkey's annual inflation reached 20.30 percent.
Çetinkaya underlined that a tight monetary policy stance will be maintained until the inflation outlook shows significant improvement, and added:
"In this respect, an additional tightening in monetary policy could be introduced when necessary."
He said inflation is projected to converge gradually to the 5 percent target under a tight policy stance and enhanced policy coordination focused on bringing down inflation.
The bank also lowered its oil price forecast to $63 per barrel for 2019, down from $80 in its October report.
"The assumption for the average annual increase in USD-denominated import prices for 2019 is also revised downward, albeit by a much smaller margin that the oil price assumption," he said.
Following the report's release, the Turkish lira gained ground against the U.S. dollar. The U.S. dollar/Turkish lira exchange rate tested 5.28 at 12 noon local time (0900 GMT), down from 5.30 as of 9.30 a.m. local time (0630GMT).