Turkey signs deal for production of Turkish-designed Altay battle tank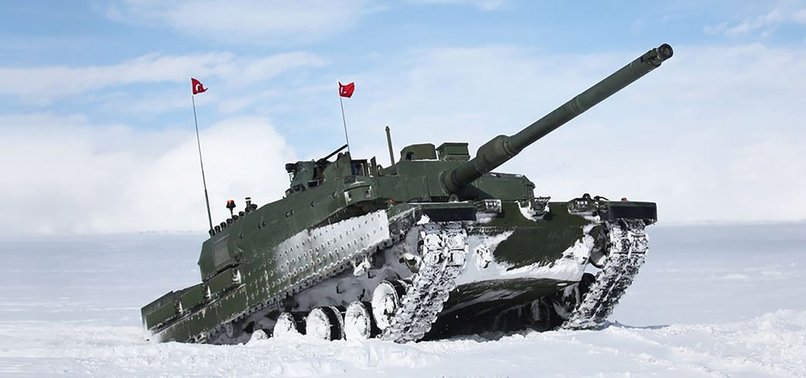 A landmark deal was signed on Friday for mass production of Turkey's first domestically made main battle tank. The state Defense Industries Presidency and armored vehicle maker BMC signed the contract for the Altay, a next-generation battle tank. The first Altay tank will roll off the assembly line within 18 months and will be delivered to the Turkish Land Forces. The contract includes mass production and life-cycle logistical support for 250 units.
Turkey signed an agreement on Friday with military vehicle producer BMC for the mass production of the Turkish-designed Altay battle tank, part of the country's efforts to expand its defence industry.
Turkey has been working to develop its own tanks, combat helicopters and other military equipment to boost its defence capabilities amid militant threats and conflict on its southern border.
Under the deal with BMC, the company will initially produce 40 Altay tanks, with the first to be delivered to the military in 18 months, according to a presentation by the government's Defence Industry Directorate (SSB) during the signing ceremony.
After the initial batch is delivered, a further 210 tanks would be built, the presentation showed.
Officials at the ceremony declined to say how much the project was worth.
Alongside BMC, others involved in the project include Turkish firms Roketsan, Aselsan, MKE and Havelsan.
BMC also signed a deal with SSB in June to develop a 1,500-horsepower diesel engine and other systems for the Altay tanks.
The prototype for the tank was developed by military vehicle producer Otokar.
BMC Chairman Ethem Sancak said a foreign company would advise BMC on the project, but did not elaborate. BMC has a joint venture with Germany's Rheinmetall.
Ismail Demir, the head of SSB, told reporters the engines would not be ready for the first batch of tanks, adding that those tanks were expected to be powered by German engines although Turkey had alternative plans if Germany did not supply them.
Turkey's Kale Group said last year it would set up a joint venture with Britain's Rolls-Royce to develop aircraft engines including those for the TF-X, the first domestically made jet.
The SSB said last week that missile manufacturer Roketsan would produce Turkey's first marine missiles. President Recep Tayyip Erdoğan also said last week that Turkey would produce long-range air defence missile systems.
The Altay, Turkey's first main battle tank development program, includes electronic command and control systems, a 120-mm gun, and armor, all made by Turkish companies.
The prototype for the Altay was unveiled at a 2011 defense show in Istanbul, Turkey's commercial capital.