Baku-Tbilisi-Kars Railway transported 110,000 tons of goods in first year
ECONOMY
Compiled from wire services
Published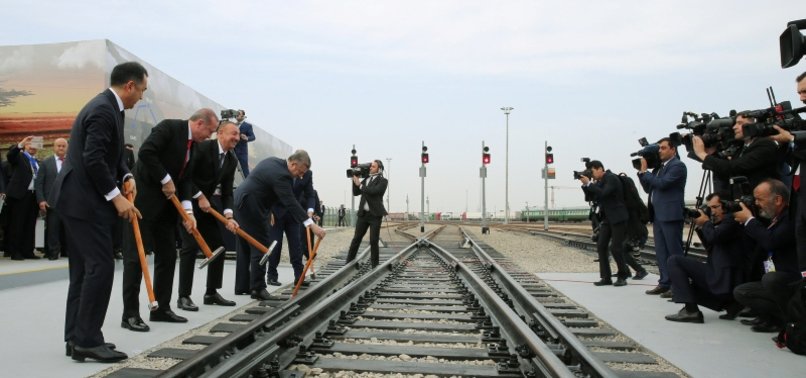 A total of 110,000 tons of goods have been transported so far on the Baku-Tbilisi-Kars (BTK) Railway since it opened last year in a ceremony that was attended by President Recep Tayyip Erdoğan and Azerbaijani President Ilham Aliyev.
Dubbed the "Iron Silk Road," the BTK Railway has made the axis of Europe, Central Asia, China and Middle East the most economic, secure and efficient route for transporting goods.
The transportation services on BTK Railway have been carried out on a 4,700-kilometer railway line between Turkey and Kazakhstan and are completed within a 180 hours depending on the conditions on the Caspian Sea.
Until now, the volume of loads transported on the BTK Railway using 116 trains has reached 110,000 tons. The trains leaving in Turkey pass through Georgia, Azerbaijan and Kazakhstan. The transportation operations continue via destinations including Russia, Turkmenistan, Uzbekistan, Kyrgyzstan and China.
With the completion of Marmaray project, an undersea railway transportation project with a broad network, it will be possible to transport goods from China to London with no interruption, reducing the duration of transporting goods from China to Europe.
The aim is to transport three million tons of goods on the BTK railway line in the short term while the target for the long term is 17 million tons.
Trains operate on the railways line three times a week and carry construction materials, food supplies, cleaning supplies and agricultural produce from Turkey to Kazakhstan, Azerbaijan, Georgia, Uzbekistan, Kyrgyzstan and Russia. Goods and products like iron, wheat and zinc are also transported to Turkey.
The Middle Corridor that extends from China to Europe, which the BTK Railway is an important part of, starts in Turkey and reaches China by making way through Georgia, Azerbaijan as well as Turkmenistan and Kazakhstan via a ferry on the Caspian Sea. Around 60 countries, directly or indirectly, benefit from the Middle Corridor.
In order to increase the efficiency of transportation, the Transportation and Infrastructure Ministry introduced simplified customs procedures and reduced the duration of goods at customs.
Moreover, Turkish State Railways (TCDD), in cooperation with countries in the region and their railway administrations, ensured attractive tariffs for BTK Railway countries and other countries in the Middle Corridor, enhancing the demand.
The TCDD became a permanent member of the Trans-Caspian International Transportation Route (TITR) with a protocol signed on Feb. 15 in order to boost the operational area of the route.
The BTK Railway line is an important bulk of "One Belt, One Road" project, also known as Belt and Road Initiative (BRI), a multibillion dollar project launched by Chinese President Xi Jinping in 2013. On the infrastructure side, the massive project aims to develop a wide network of road, marina and rail transportation systems from China to Europe, Middle East, and Africa for the quicker and safer transportation of Chinese goods to global markets, especially to Europe.