Turkey's Borsa Istanbul up over 2.3 pct at close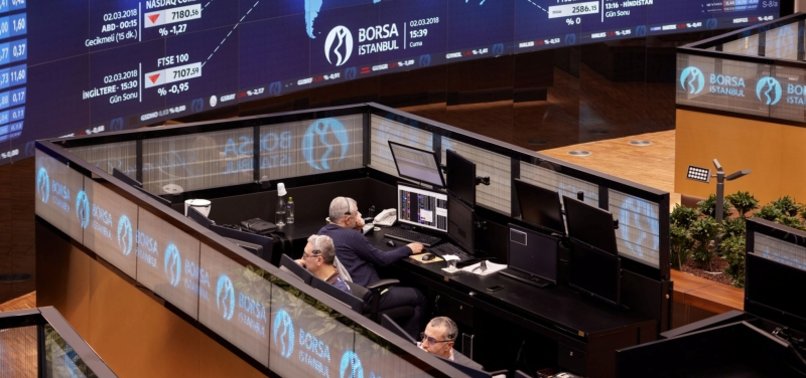 Turkey's benchmark stock index surged 2.38 percent to close at 94,419.15 points with a trading volume of 10 billion liras ($1.62 billion) on Thursday.
Borsa Istanbul's BIST 100 index gained 2,191.78 points from Wednesday's close of 92,227.37 points, while it started the day at 92,257.88 points.
The total market value of listed shares on the BIST 100 was some 619.5 billion Turkish liras ($96.9 billion) at the close.
The benchmark index hovered between 91,206.17 points and 94,610.38 points during trading hours, while 85 stocks on the BIST 100 rose, 12 fell, and three were flat compared to the previous close.
Among all sectors, the telecommunication sector index was the top gainer, up 7.95 percent, while the real estate investment trusts index fell the most with a 0.15 percent decline.
Shares of food giant Ulker Biskuvi (ULKER) showed the best performance of the day -- up 9.34 percent -- and stocks of the energy and construction company Isiklar Enerji Yapi Holding (IEYHO) recorded the largest decline with a 4.17 percent drop.
The BIST 100's most-traded listed companies were national flag carrier Turkish Airlines, private lender Garanti Bankasi, prominent defense company Aselsan, iron and steel producer Kardemir, and another private lender Akbank.
The U.S. dollar/Turkish Lira exchange rate slipped to 6.1590 as of 5 p.m. local time (1400GMT) Thursday, compared with 6.3530 at the previous close.
Following Central Bank's move to hike interest rates, the USD/TRY rate fell over 3 percent compared to the previous close, to trade at 6.0151 by around 2 p.m. local time (1100GMT).
Turkish Central Bank on Thursday raised its one-week repo rate by 625 base points.
In a statement, the bank's Monetary Policy Committee said the policy rate was increased to 24 percent, up from 17.75 percent.
One euro traded for 7.2180 Turkish liras by market close, while the EUR/TRY rate was 7.3810 at Wednesday's close.
The GBP/TRY rate was 8.1190 at Thursday's close, while one British pound traded for 8.2820 Turkish liras at the previous close.
In Borsa Istanbul's Precious Metals and Diamond Markets, one ounce of gold traded for $1,206.00 as of 4.30 p.m. local time (1330GMT) Thursday, while it was $1,194.00 at the previous close.
As of 6 p.m. local time (1500GMT), the price of Brent oil stood at $78.36 per barrel -- hovering between $77.97 and $79.75 during the day.