Turkey to rank 2nd in OECD with more than 7 pct growth in 2017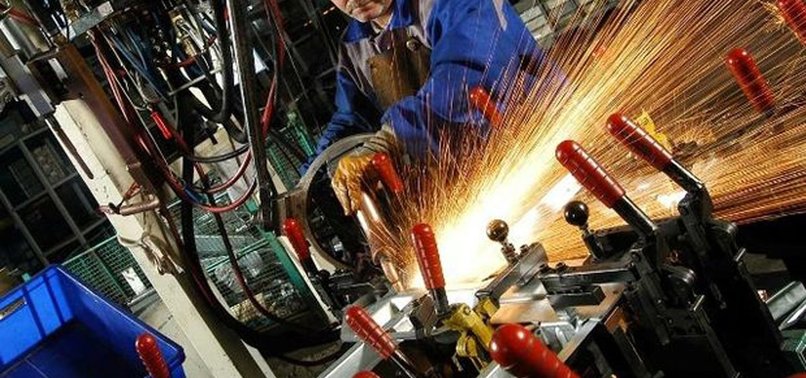 Turkey is expected to rank second in the 34-member OECD if it achieves the expected growth of more than 7 percent for 2017, with figures for the year as well as the fourth quarter of 2017 due to be announced today
Turkey will become second among the Organization for Economic Cooperation and Development (OECD) if the countries achieves its projected growth for 2017, surpassing the production engine of the world, China.
The national statistics institution will announce the Turkish economy's growth figures for last year today.
Turkish Statistical Institute (TurkStat) will announce gross domestic product (GDP) growth in fourth quarter of 2017 and the growth in the last quarter and the whole 2017. Along with the growth figures, GDP per capita figures will also be released.
According to information compiled from TurkStat and the OECD, Turkey's economy grew 5.3 percent in the first quarter of 2017, 5.4 percent in the second quarter and 11.1 percent in the third.
Considering the figures, it is expected that the performance in the last quarter will continue. In this sense, economists who participated in an Anadolu Agency (AA) Finance expectation survey expect that GDP to have increased 7.1 percent in the last quarter of 2017, and 7.3 percent for the whole year.
If these expectations are correct, Turkey would rank second in the 34-member OECD after Ireland, outperforming even China.
Speaking to AA, DenizBank Investment Services Group Strategist Orkun Gödek said that 2017 would be remembered as a year of performance when global-scale growth synchronization was ensured after a long break following the global financial crisis.
Gödek explained that the global growth environment is improving when the rate of capacity utilization spreads and that the Purchasing Managers' Index (PMI) and industrial production data are supported by momentum in domestic consumption. Gödek continued: "On the other hand, we expect annual growth to reach 7 percent when the incentives introduced are supported by increased exports. In 2018, we maintain our current expectation of growth of 4.2 percent if credit growth returns to normal and imports decline relatively. The February data show that there is no recession in global growth yet. The relative decline in PMI figures from higher levels and the desire to reduce stocks at the beginning of the year are possible, but we believe that momentum is preserved."
VakıfBank Economic Research Director Cem Eroğlu said that they expect 7.2 percent growth for the economy for 2017.
Erdoğlu cited recent statements from authorities that indicate that annual growth might exceed 7.2 percent. "We expect that growth, which displayed a strong outlook thanks to the Credit Guarantee Fund [CGF] and base effect in 2017 will maintain this outlook with the support of expected investment-oriented incentive package and that the Turkish economy will grow around 5.5 percent in 2018."
Eroğlu said that growth in 2017 was predominantly supported by consumption expenditures the same as in previous years and that they expect a growth-oriented outlook for 2018 due to investment and export incentives the government is expected to announce.
Türkiye Ekonomi Bankası (TEB) Financial Markets Strategy Manager Erkin Işık said that GDP growth could rise to 7.2 percent last year, especially with CGF support.
Indicating that more than half of this growth stemmed from domestic demand, Işık said there has been a significant contribution of fixed capital investments and net exports.
According to Işık, even though fixed capital investments are mostly construction-intensive, recovery was seen in machinery-equipment investments as of the third quarter when capacity utilization rose to very high levels.
Şekerbank Chief Economist Gülay Elif Girgin said that Turkey had a very good growth performance compared to other countries. "Looking at 2018, we can expect a growth rate of 5 percent with a slight slowdown as a general expectation. Although the headline growth figure is important, sub-items and the quality and sustainability of growth are also important issues. The acceleration of investments due to CGF support and a growth rate ensured by net exports are the basic conditions for sustainable growth for an emerging economy with a young population like Turkey."
QNB Finansinvest Chief Economist Burak Kanlı said that data updates on the previous period could make small differences to expectations, but that he predicts 4.5 percent to 5 percent growth in 2018.
Remarking that growth composition in 2017 was quite balanced, Kanlı said: "As has always been, private consumption has made the largest contribution. On the other hand, exports of goods and services were also very strong and net exports made a positive contribution to growth. In addition to all this, we saw a significant recovery in investment demand after a long time, which also significantly contributed to growth. At this point, however, I need to warn that we cannot distinguish investment demand from the private sector and public sector in the new GDP series."
Kanlı said that rapid rises in the current account deficit recently may have a negative impact on growth, adding that the rapidly rising current deficit account actually means quickly created debt and the quickly emerging demand for imports. ISTANBUL / DAILY SABAH WITH AA