Top global tourism fair opens in Istanbul, convenes tourism leaders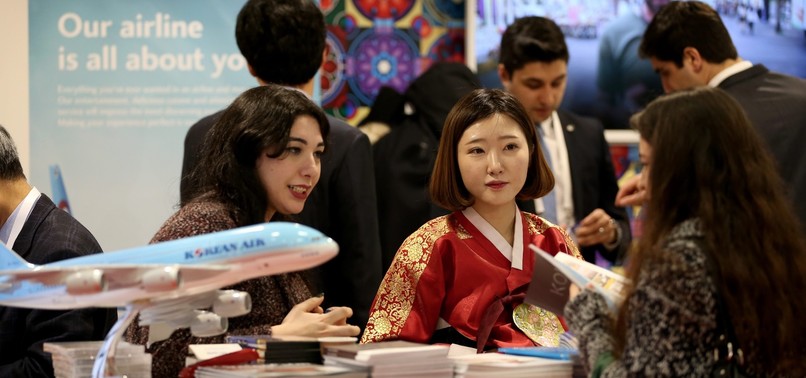 One of the top five tourism fairs, EMITT, is set to welcome world tourism professionals in Istanbul to institute new ways to cooperate to realize Turkey's aim to welcome 50 million tourists
One of the top five tourism fairs in the world, the Eastern Mediterranean International Tourism and Travel (EMITT) exhibition leads the tourism sector with educational content and cooperation to create added value for participants. Organized for the 22nd time, EMITT opens today and will host 650 tour operators and run until Jan. 28. It welcomes tourism agencies and operators from countries around the world that have great potential to bring tourists to Turkey. Thus, it aims to establish new partnerships to benefit from Turkey's goal to host 50 million tourists and secure $50 billion in revenues.
Sponsored by the Ministry of Culture and Tourism, the Istanbul Metropolitan Municipality and Turkish Airlines (THY), supported by the Small and Medium Industry Development Organization (KOSGEB) and organized by the Turkish Hoteliers Federation (TÜROFED) and the Turkish Tourism Investors Association (TYD), EMITT expects more than 50,000 visitors.
The first two days are for tourism professionals and the last two days are for tourism customers that will be able to examine holiday destinations and set budget-friendly vacation routes with early booking campaigns.
ITE Turkey Tourism & Travel & Fashion Group Director Hacer Aydın highlighted that the 22nd EMITT will host a record number of professional visitors. Since the first event in 1999, Aydın said, the fair has grown steadily and become one of the top-five global tourism fairs.
"Until now, we have approved participation by tour operators primarily from India, Indonesia, Philippines, Russia, Balkan countries, Italy, Bulgaria and Greece. We carefully review applications from tour operators from countries that have a high potential of bringing tourists to Turkey. We have received applications from 4,500 tour operators, and 650 of them will participate in the 22nd EMITT. But we may have to increase this number due to high interest," Aydın said.
Tourism sector eyes 50 million visitors, $50 billion in revenues
Evaluating the sector, Aydın emphasized that after the normalization of ties with Russia, strained after the jet-downing crisis in November 2015, tourism data started to deliver good results. She remarked that the increase in tourism figures will continue in 2018, and Turkey will secure the number of tourists recorded in 2015, which was 36.24 million. "After 2018, the sector will accomplish its goal to reach 50 million visitors and generate $50 billion in revenues," she said.
In 2016, tourism revenues in Turkey decreased by 29.7 percent from 2015 and stood $22 billion and a total of 25.3 million foreigners visited the country. Domestic tourism revenue was $31 billion in 2015 and $34 billion in 2014.
A sectoral school for participants and customers, the EMITT exhibition has rich content. The development of the domestic tourism industry, the future of travel agencies in Turkey, travel trends and forecasts, gastronomy tourism and creation of gastronomic brands to market cities, local development and tourism, the contribution of sustainable tourism projects to local development, the lavender village project, online sales in emerging markets, the general approach of the European Union to tourism and local development and incentive programs are among the major topics. Culture and Tourism Minister Numan Kurtulmuş, Union of Chamber and Commodity Exchanges of Turkey Chair Rifat Hisarcıklıoğlu, Istanbul Governor Vasip Şahin, Istanbul Mayor Mevlüt Uysal, TYD Chair Oya Narin, TÜROFED Chair Osman Ayık and German Tourism Sector Federal Union Chair Micahel Frenzel, U.N. World Tourism Organization Former Secretary-General Taleb D. Rifai and U.N. World Tourism Organization Secretary-General Zurab Pololikashvili will attend the opening ceremony.